In terms of steak "doneness" there are typically five stages: Rare, Medium Rare, Medium, Medium Well, and Well Done. All of these stages are differentiated based on measured internal temperature ranges, texture, color, and flavor. However, blue or "bleu" is a sixth stage that exists before rare.
What is Blue Steak
Blue or "bleu" steak was popularized in France – it refers to steak that is served very rare. Essentially the meat is seared on both sides for roughly a minute.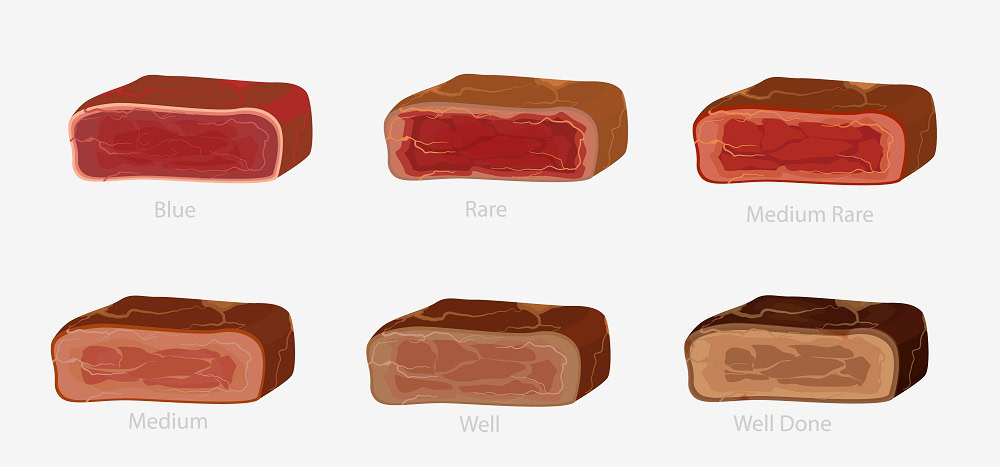 While blue or 'bleu' is what the level of doneness is referred to as. The color could be described as purple or blue-ish. This color is primarily associated with freshly cut beef or beef that has been stored in a vacuum (without the presence of Oxygen).
The Color of Beef Explained
In a grocery store you might notice that all beef are hues of red – truth be told, psychologically, our brains tend to perceive the color red as more appealing; This is beneficial for both retailers and consumers.
In order to keep beef fresh, it is vacuum sealed (with Cryovac for example). The color of fresh beef is based on myoglobin. Myoglobin is a protein that stores oxygen in cells; It is found in muscle tissue and is purple in color.
When myoglobin comes into contact with oxygen, the iron in the muscle will react and become unstable and will turn red or brown based on the level of oxygen present. It's important to note that color stability is also muscle (type and purpose) and age dependent.
More specifically there are three stages of beef color change:
Bright Red: Oxymyoglobin – The oxygenated form of myoglobin
Brown: Metmyoglobin – The oxidised from of myoglobin
Purple: Deoxymyoglobin - No Oxygen Present
Vacuum packaged beef will appear purple/red as there is no oxygen in a vacuum. The vacuum creates an anaerobic environment (no oxygen). However, once oxygen is introduced it will "bloom" within 30 minutes into a cherry-red color.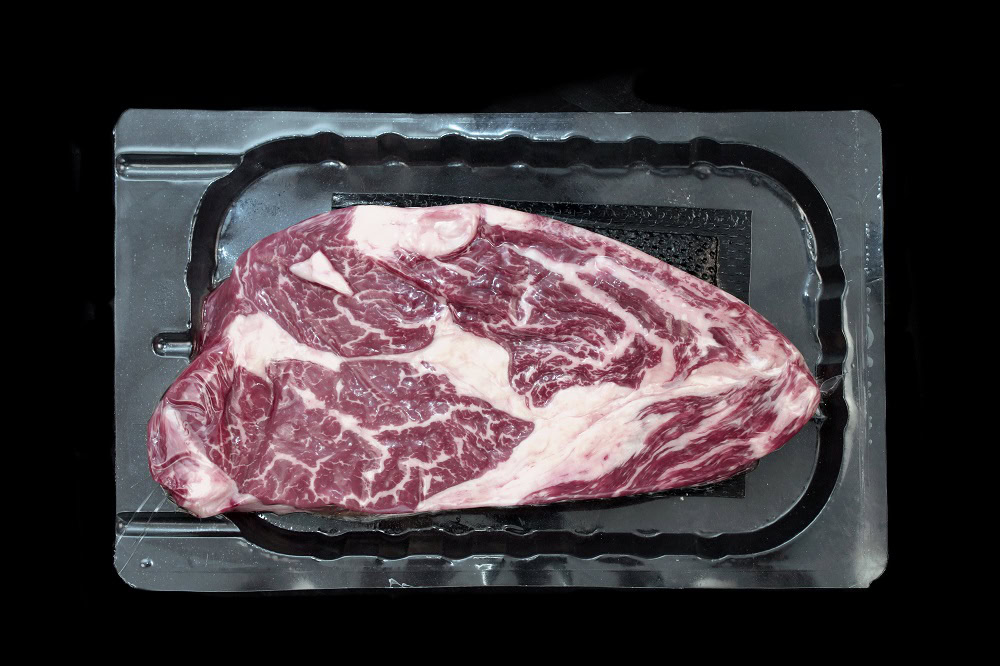 Beef that is packaged in an over-wrap tray (Modified Atmosphere Packaging – MAP) will be bright red because oxygen is present. In a MAP package, there is 70% Oxygen and 30% Carbon Dioxide gas.
Meaning, the color of beef is categorically unstable because our atmosphere is entirely made up of oxygen. Over-time, as the beef comes into contact with oxygen, it will deteriorate.
The same can be said for cooking beef, as this also causes meat to change color. Searing effectively raises the surface temperature of the beef to 302 F which results in browning or caramelization of sugars and the Maillard reaction of amino acids. If the temperature is raised even further, the meat will blacken or char.
Pittsburgh Rare or Chicago-style Rare or "Black and Blue"
While a number of resources will mention the French "bleu," they also fail to mention Pittsburgh Rare or "Black and Blue" or "Chicago-style rare." Black and blue describes the cook, blackened/char on the outside and rare/blue on the inside.
Regions like Pittsburgh have popularized "Pittsburgh rare" which essentially means the same thing – steak that is briefly seared but served raw or rare on the inside (115 – 125 F).
There are a number of theories as to the nomenclature, however, the most popular is related to the steelworkers cooking steak on the hot iron of the blast furnaces. They would simply place the steak on the blast furnace for a few moments and then flip it over. The outside of the steak was seared and the inside was rare.
Today, Pittsburgh Rare is used to describe a steak that is extra charred on the outside, regardless of internal temperature.
Is Blue Steak Safe to Eat?
The United States Department of Agriculture recommends an internal temperature of at least 145 F for cuts of beef in order to prevent food-borne illness and 160 F when ground (the bacteria is distributed throughout the meat – surface and internal).
Cooking beef to an internal temperature below 145 F like that of medium-rare (130 – 140 F) or rare (125 – 130 F) will increase your risk of food-borne illness, but to a much lesser degree; The same could be said for blue steak (115-125 F).
The reason consuming undercooked beef is possible is because beef has a close grained, dense texture that prevents pathogen penetration into muscles. However, these pathogens can exist on the surface of the meat – Meaning, at a minimum the surface of the beef needs to be cooked or seared in order to kill pathogens.
This is the same reason you can't eat undercooked chicken. Poultry has a relatively porous texture meaning pathogens can entirely penetrate the muscle. In order to kill the bacteria you need to completely cook the meat.
The Food and Drug Administration (FDA) recommends that individuals susceptible to developing food-borne illness entirely avoid raw or undercooked beef due to risks associated with Toxoplasmosis and other food borne diseases. Meaning, achieving a recommended internal temperature of 145 F or medium is necessary. The NHS recommends that all meat including beef being "well cooked" with no traces of pink or blood.
References