The ThermoWorks Thermapen ONE was provided by ThermoWorks in exchange for an unbiased review - read more about my Editorial Policy.
To preface this review, I've owned the ThermoWorks Thermapen MK4 for quite a while and I've been super satisfied with it. When the new Thermapen ONE came out, I didn't think much of it.
Even before receiving the new Thermapen ONE, I told ThermoWorks I wasn't sure how much of an improvement they could actually make on the MK4.
With that said, I stand corrected.
ThermoWorks Thermapen One: What to Expect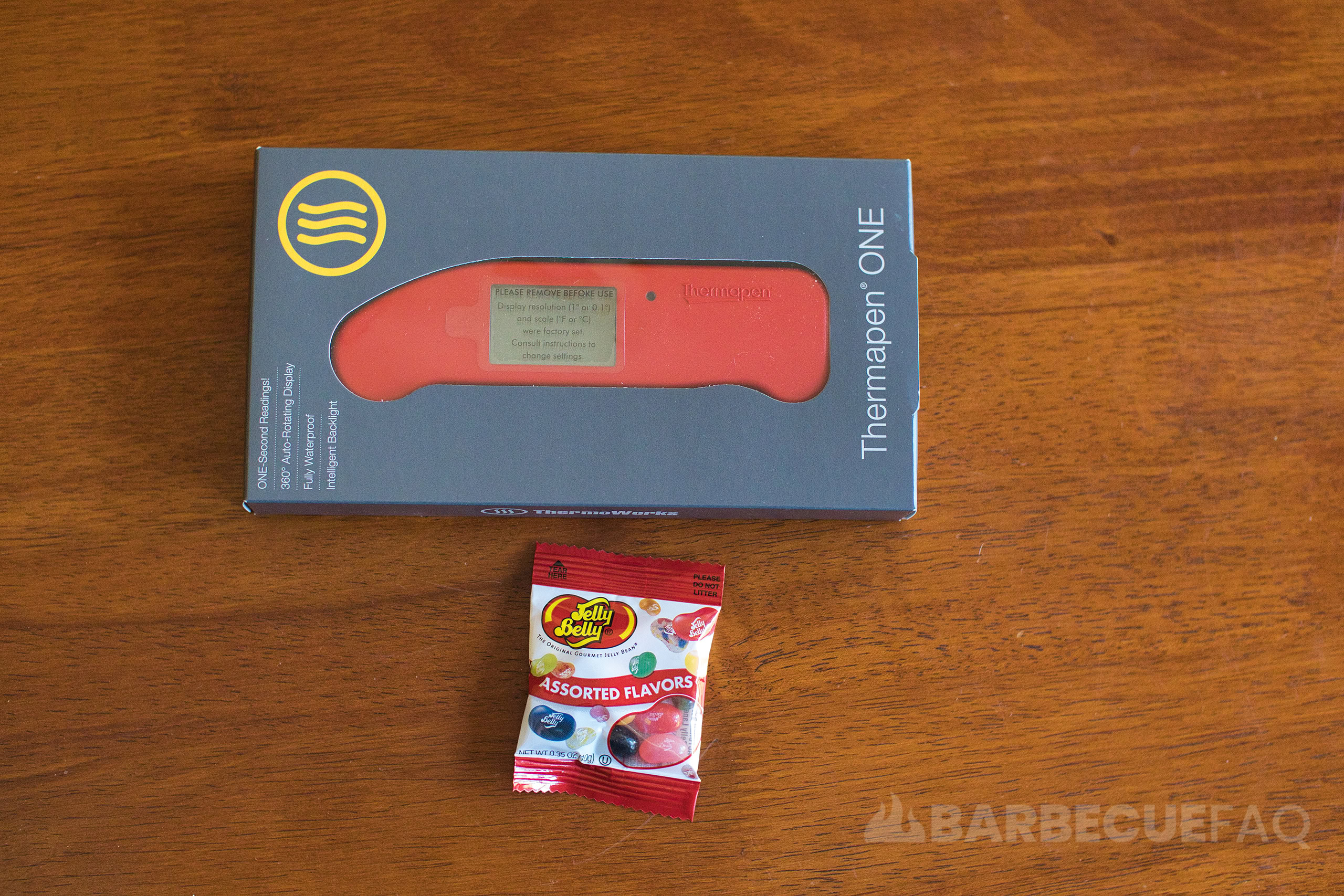 The ThermoWorks Thermapen One arrives in a compact package and contains the following:
ThermoWorks Thermapen One
Certificate of Calibration
Manual
*Jellybelly Jellybeans
*I noted in my MK4 review that I wasn't sure if the jellybeans were a regular thing or that someone was happy I ordered; With this package I also received the Jellybeans, so I'm assuming it's a regular thing.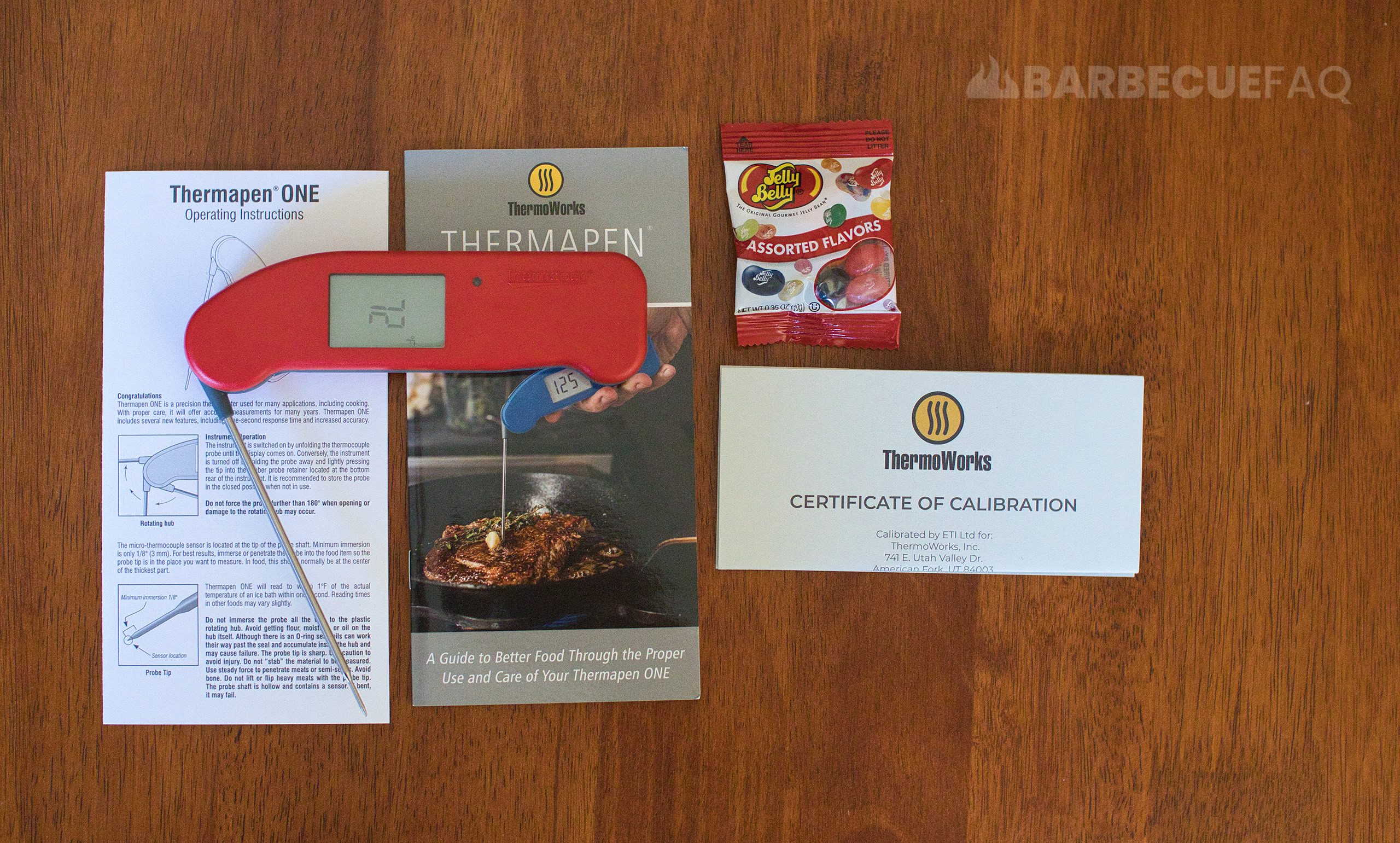 Similar to last time, I ate them.
There is no setup required in order to use the Thermapen One. As soon as you take it out of the package, it's ready to use.
ThermoWorks Thermapen One: What I Like
Over the years I've owned a number of different "instant read" thermometers. Most of those thermometers have fallen in the $10-20 range and were bought from a local home goods store or while grocery shopping.
The ThermoWorks ONE is much better than devices and honestly, a bit better than the MK4 (more on that below).
Testing the Thermapen ONE
When I test any new thermometer or meat probe, I will almost always use an ice bath. The reason being, the freezing point of water is a known value - 32F.
When testing the probe, I checked both the rated accuracy (+/- 0.5F) as well as the speed.
Below is a photo of the accuracy - the readout on the Thermapen ONE says 32F.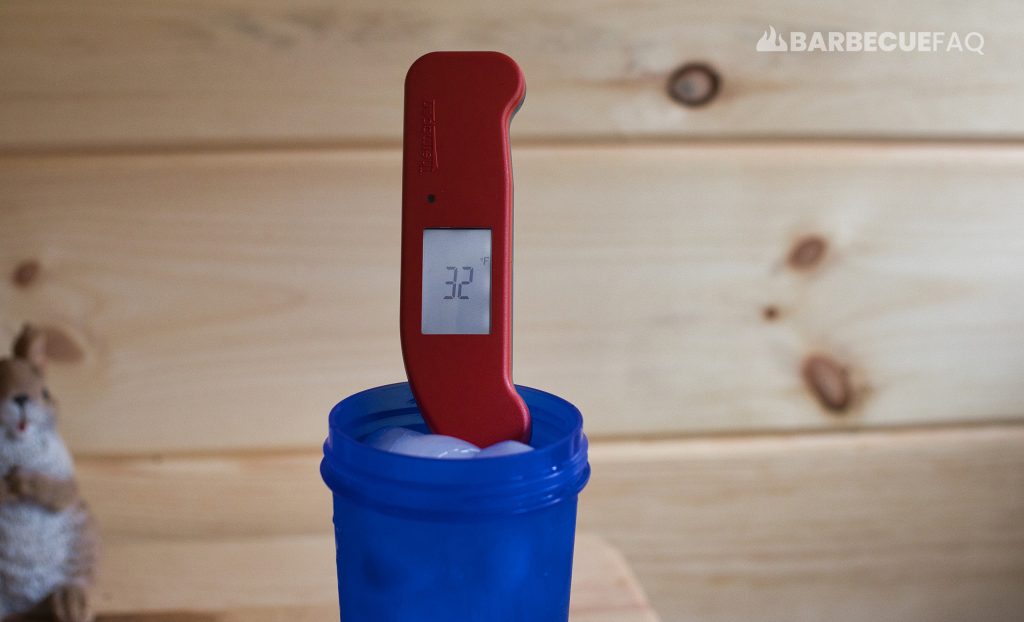 Here is a quick video that demonstrates the read speed. This same video also demonstrates the backlit display (we physically blocked the sensor when inserted into the ice bath).
As shown in the video, the Thermapen ONE is put into the ice bath and goes from the ambient temperature of the room to 32F in roughly one second*.
*Based on frames in my editing software it was roughly 1.13 seconds.
Upon placing your finger on the sensor, the backlit display lights up and remains on until it detects sunlight. I also prefer the color of this backlit display - it's easier to read.
I will say, I'm actually sort of surprised how much more I like having a near instantaneous read-out.
In the grand scheme of things, 1-2 seconds more isn't all that much, but when you're smoking meat out in -5F temperatures in the middle of winter, those seconds matter.
I recently moved and packed my MK4 and my ThermoPro TP20 in a tightly wrapped dish pack. We've yet to unload it and I'm unsure of what box it's in.
Before I moved I also opted to smoke a brisket. Since both my means of measuring internal temperature were packed away I had to buy an Instant Read Thermometer from Target.
I opted to get a $12.99 Taylor Probe thermometer. While it works, oh boy did I miss the MK4.
There's nothing quite like watching temperatures slowly climb as you patiently wait to see where both the flat and the point are at in their cook.
Luckily I use more than temperature to determine when to wrap brisket.
Needless to say, never again.
Auto-rotating Display
The auto-rotating display is a feature that came packed with the MK4. It's super useful when you're working by yourself and sometimes have to contort how you hold the thermometer.
Rather than having to turn your head, the display knows when to turn itself.
Here's a collage of the Thermapen ONE in various orientations: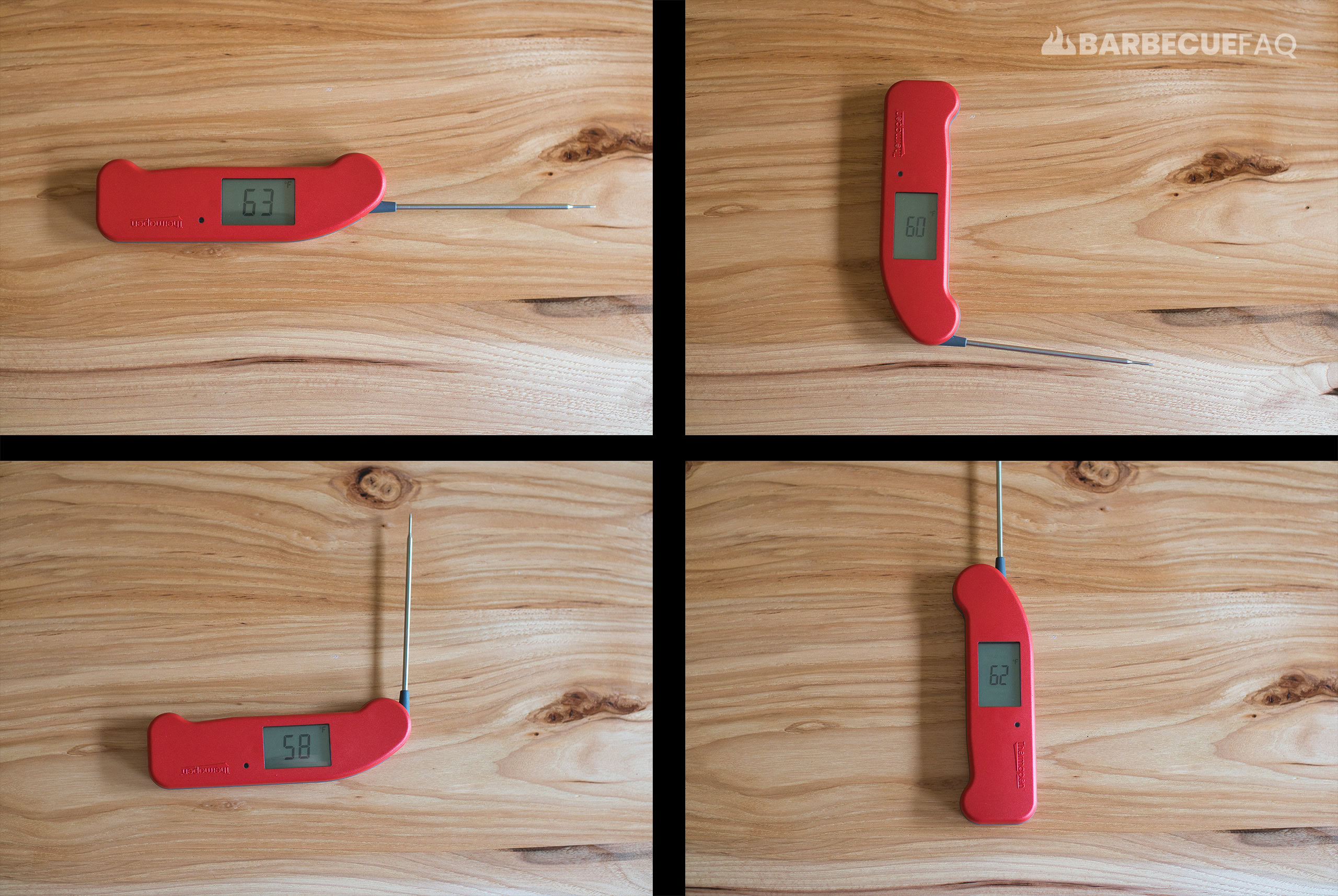 Color Options
In my opinion, something like color is sort of a tertiary consideration, however, for someone like me who runs a blog, it helps with branding.
Barbecue FAQ's branding is red and white, so I opted to get the red one.
ThermoWorks current color options are:
Grey
White
Yellow
Lime Green
Red
Blue
Black
Orange
Pink
Purple
Truly an option for everyone.
Well Documented
As I mentioned in my MK4 review, something I really appreciate that ThermoWorks does is that they're well documented.
In case you lose the manual/documents that come with the Thermapen ONE. You can download a PDF version via their website.
All of their documentation is easy to read and understand.
The folks at ThermoWorks are also easy to talk to and respond quickly via live-chat. I've messaged them twice now for these reviews. Here's a quick example: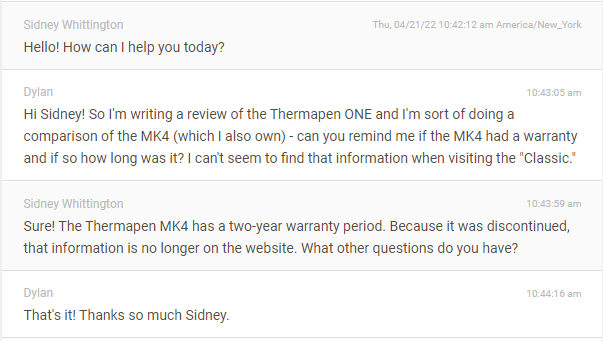 I also wanted to know how to change from Fahrenheit to Celsius, just to see if it's any easier than the last iteration.
That information is found in the operating instructions and is clearly explained.
So this was something I actually complained about in my review of the MK4.
While I will never change from Fahrenheit to Celsius, for folks who use it, it was a pain in the neck.
The buttons in the MK4 are borderline impossible for my big baseball mitt hands to cycle through.
Where-as the new version put the buttons conveniently in the back where the battery is changed. My hands are more than capable of cycling through the menu and pressing the buttons.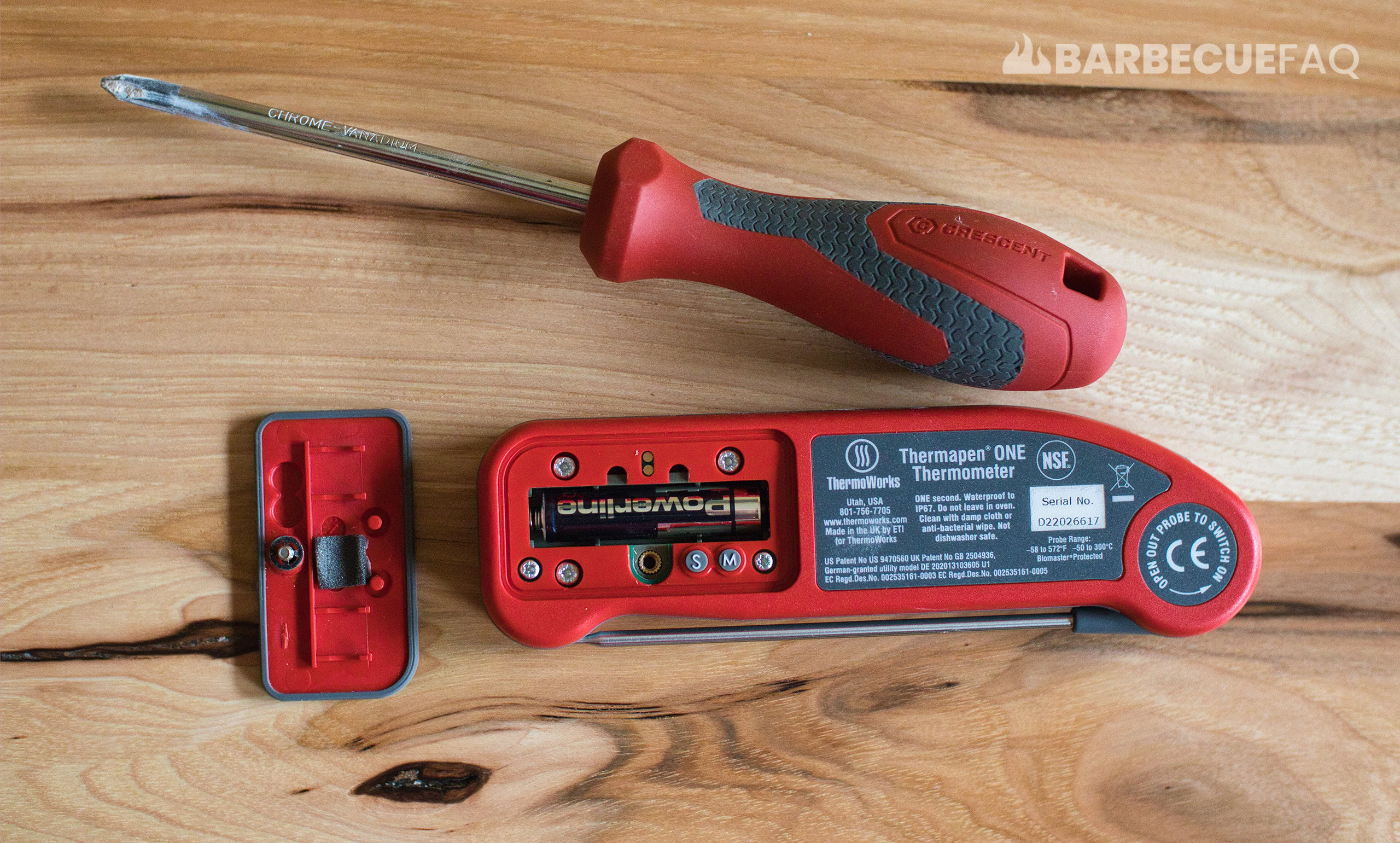 This change makes more logical sense and shows that they likely felt the same way about their product.
Great change ThermoWorks!
ThermoWorks Thermapen One: What I Don't Like
Similar to the MK4, there isn't much to really remark on.
I mean, they even improved the small issue I had with the MK4 as pictured above.
However, again, there's no way to really dance around the fact that it's expensive.
As of writing this article (4/21/2022), the Thermapen ONE is listed for $105.
Most thermometers that you find in a home goods store or grocery store will run you about $10-$25. In my example above, the Taylor thermometer I had to buy as a stand-in cost me $12.99.
However, these devices are just borderline inferior and aren't made to last. Trust me, I've owned dozens like the Taylor probe thermometer.
Truth be told I threw away the same Taylor thermometer 2 years prior because the probe broke - which is why I own the MK4.
The Thermoworks Thermapen ONE has a 5 year warranty - which is even improved from the 2 year warranty with the MK4 (thanks to Sidney's information above).
Thermoworks Thermapen MK4 vs Thermapen One
Just for the sake of comparison, I figured having a chart of the differences would be useful. Especially for folks who own the MK4 and have considered upgrading.
| Thermapen ONE | Thermapen MK4 |
| --- | --- |
| Readings in 1 second | Readings in 2-3 seconds |
| 2,000 hours of battery life | 3,000 hours of battery life |
| ±0.5°F (±0.3°C) from -4 to 248°F (-20 to 120°C) otherwise ±1.8°F (±1.0°C) | ±0.7°F (±0.4°C) from -58 to 392°F (-49.9 to 199.9°C), ±1.8°F (±1.0°C) from 392 to 572°F (200 to 299.9°C) |
| 5 year warranty | The MK4 had a 2 year warranty |
| IP67 Water Resistance | IP 66/67 |
| –58.0 to 572.0°F | -58.0 to 572.0°F |
There really aren't that many features that are different. The sacrifice in battery life is more than fine with me considering the user settings can actually be accessed easier. Granted, I don't foresee using them.
The biggest selling point really is the 1 second reading vs 2-3 seconds. Which I surprisingly enjoy quite a bit and don't think I'd want to go back to 2-3 seconds.
Do I think it's worth upgrading? Maybe not.
I feel like the MK4 is more than adequate and does the job better than other instant read thermometers.
I also don't think the ONE is markedly better, however it still is better. You get faster readings and a longer warranty, which are huge selling points in my book.