If you're hosting a barbecue or cookout, hot dogs are almost always on the menu. However, if you have friends and family who like barbecue, Hot Dog Burnt Ends are a great way to feed a crowd for cheap.
They're also super easy to do and taste amazing.
What to Look for in Hot Dogs?
In my opinion, not all hot dogs are created equal. Granted, what I may like, you may not.
My favorite hot dog brands are Deutschmacher or Schonlands - in that order.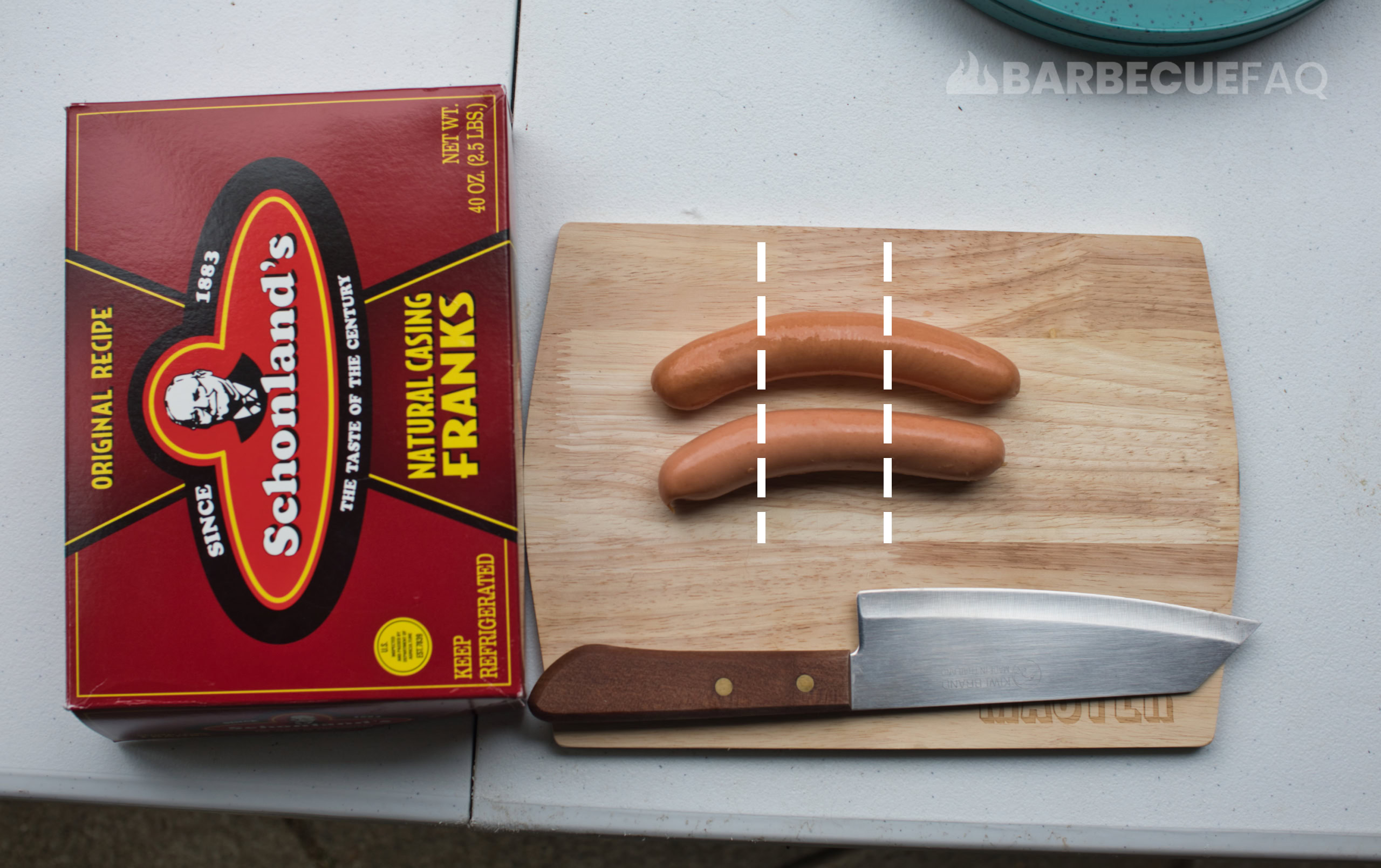 If neither of these are available, I opt for Kayem hot dogs (their beef and pork ones). The above brands are also owned by Kayem, only the recipes are different.
Apart from what meat goes into the hot dog (like beef, pork, or chicken), there really isn't a ton of factors to consider. However, if you aren't from New England you may not be able to find Kayem brands.
In which case, opt for regular sized beef and pork franks.
Prepping the Hot Dogs
In order to prep the hot dogs into burnt ends, I like to slice them up into thirds (pictured above).
Some folks like to smoke them whole first and then slice, however, I think you get more coverage when all edges are exposed.
Binding Dry Rub to Hot Dogs
Unlike pork ribs, brisket, and even bologna, there isn't a lot of surface area on hot dogs for rub to stick to.
We essentially want to maximize as much rub adhering to the hot dog as possible.
In order to accomplish this, you need a binder.
Typically, I use French's yellow mustard as my binder as it's super cheap. However, I was over at a friend's house and all he had was Weber's Horseradish Yellow mustard.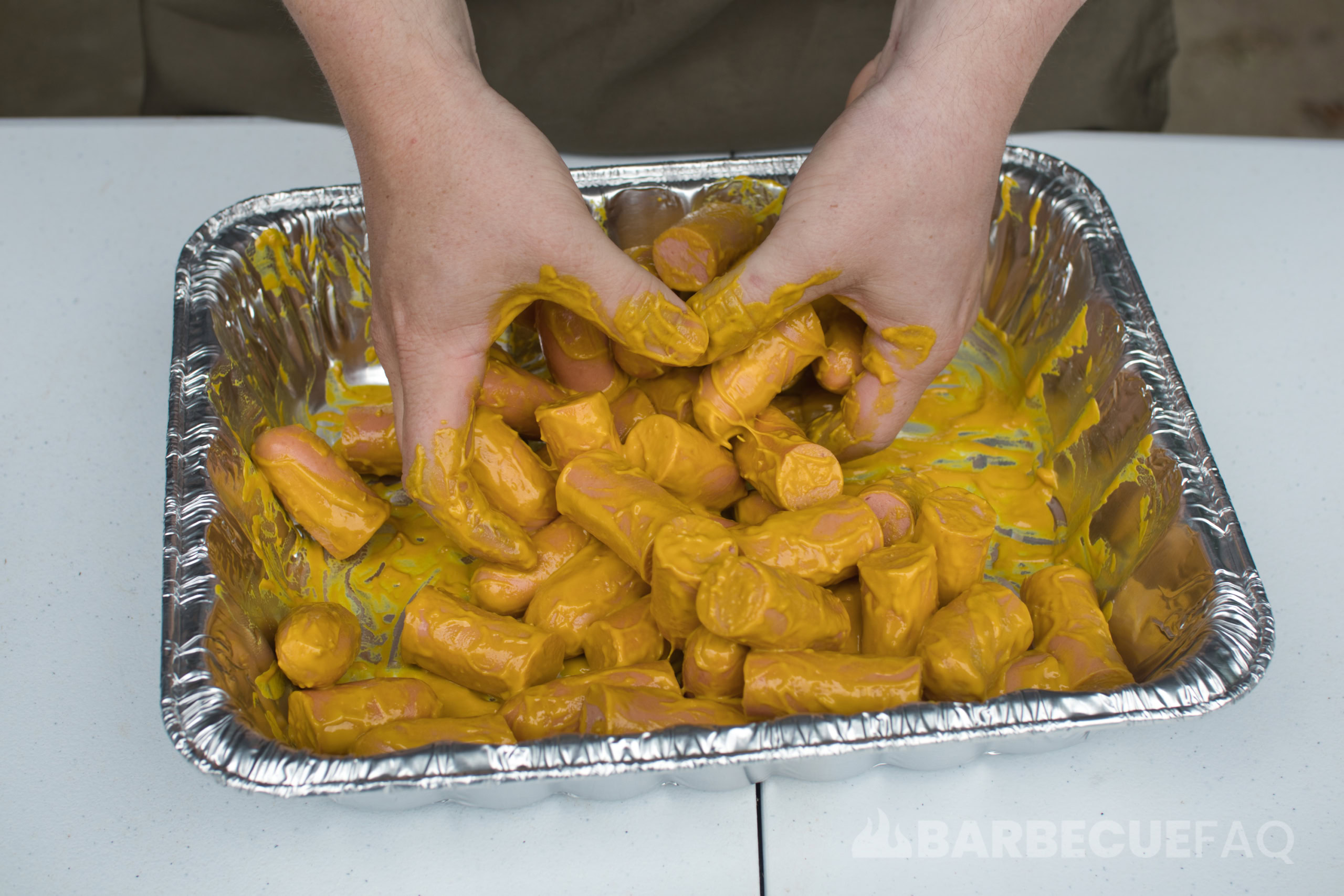 Note: The fact that horseradish is in this mustard doesn't matter, at all; You won't taste the mustard, let alone any of the other spices. Most if not all mustard is vinegar-based meaning it burns off/vaporizes when cooked. Weber's is distilled vinegar and water.
If you don't have mustard, a great alternative is olive oil.
Simply cut up your hot dogs, put them into an aluminum pan, and add mustard. Mix around so that all surfaces of the hot dogs are covered in mustard.
Applying Rub
After you've coated the hot dogs in mustard, you can start applying rub.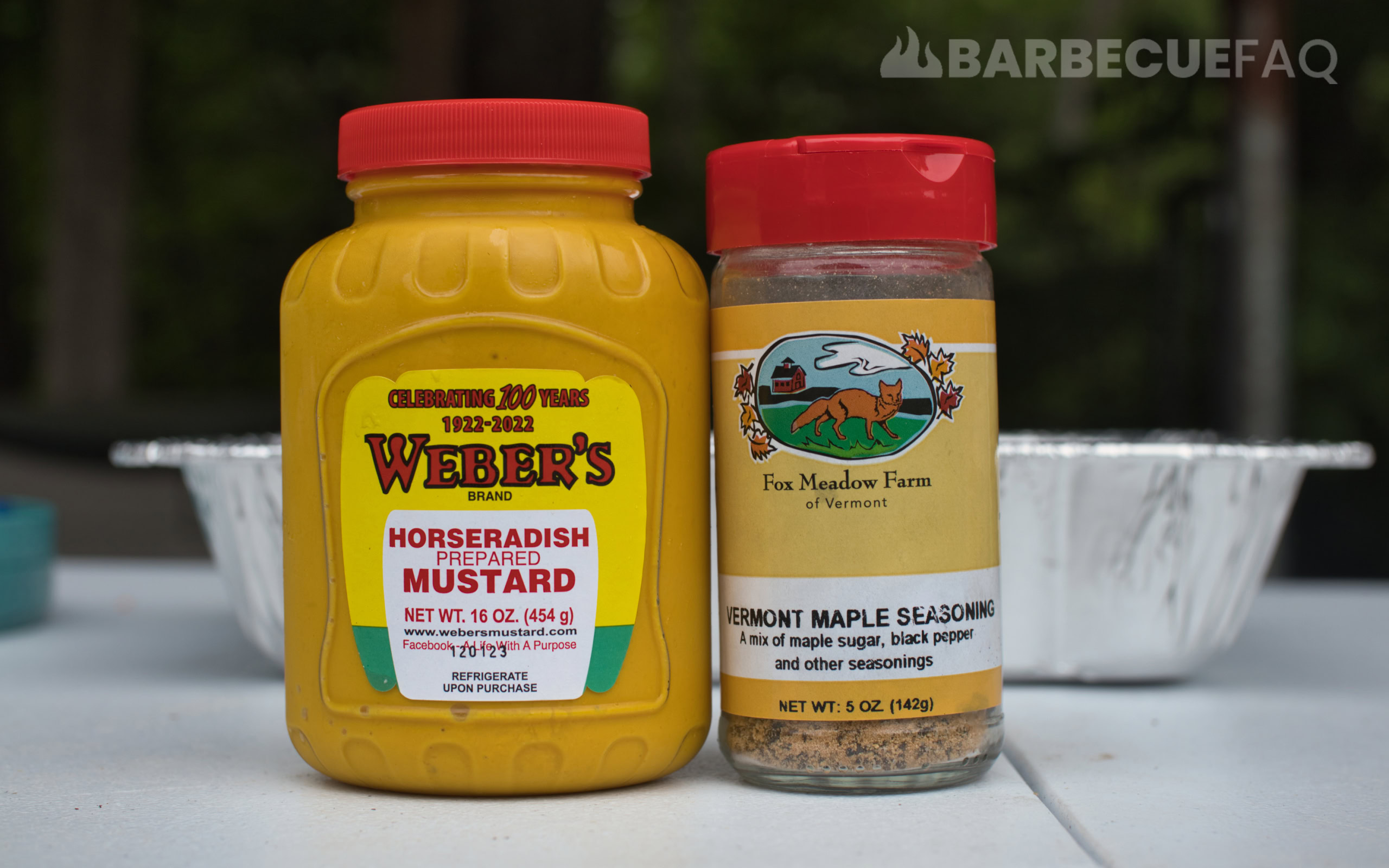 For this recipe, I used a locally made Maple sugar-based rub called Vermont Maple Seasoning from Fox Meadow Farm. I'm from New Hampshire and maple finds its way into a lot of different products.
Apart from Maple sugar the rub also includes Natural Cane Sugar, Sea Salt, Black Pepper, Lemon crystals, and "Natural Flavors."
The rub is wonderful on a lot of things. It has a bit of heat from the pepper and sweet from the maple and cane sugar.
Simply add your favorite rub and mix around.
Once we're near the end, I like to finish off the tops with rub so that they remain that way when you place them on the grill.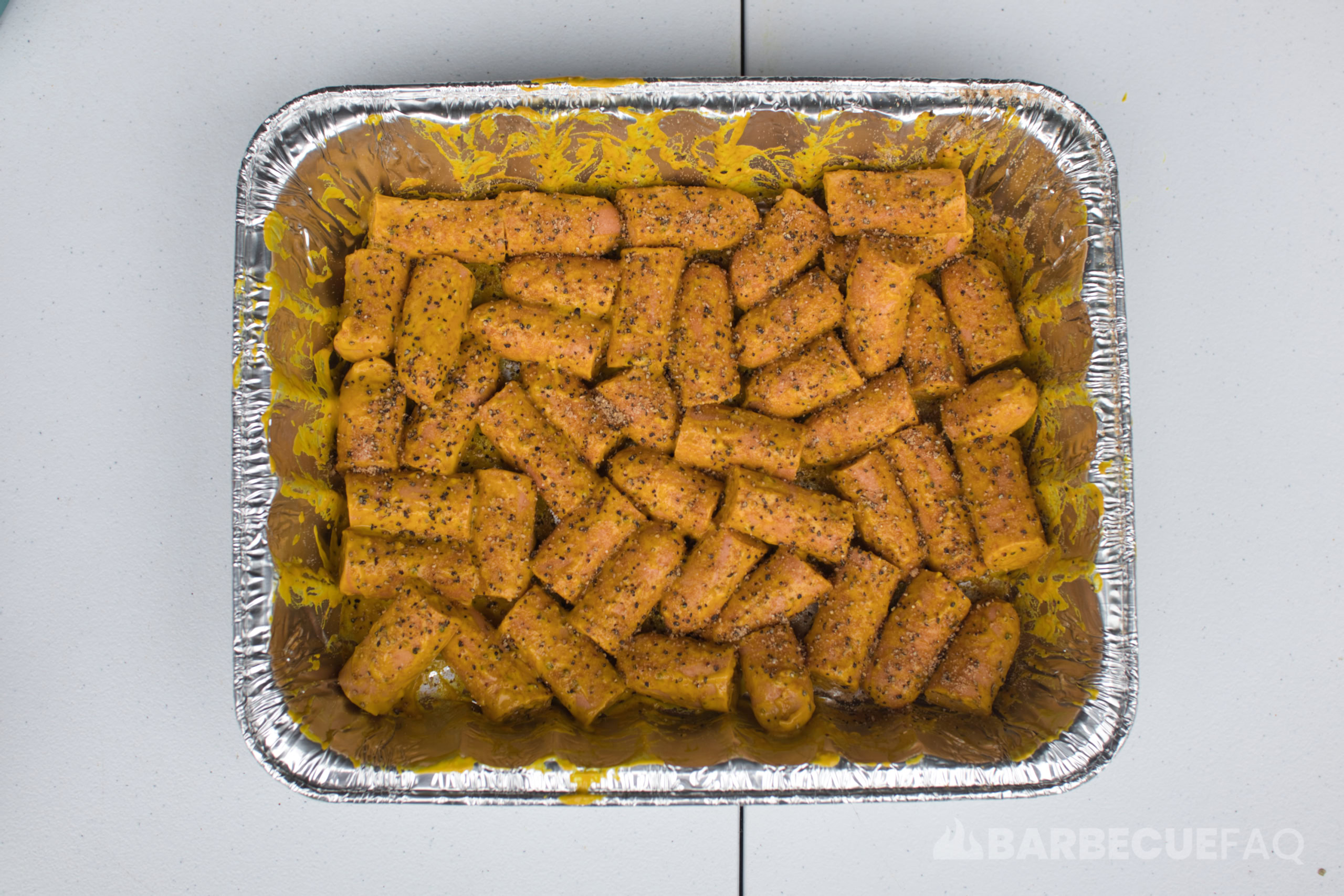 Smoking the Hot Dogs
If you've ever grilled hot dogs before, you know that it doesn't take much to split the casing. The goal is to avoid this and to offer the hot dogs some smokey flavor.
Setup your smoker to run at 225F. In our case we used the Weber Kettle with Char-baskets. We used tongs to place the hot dog burnt ends opposite the fire and spread out along the grates so they weren't touching.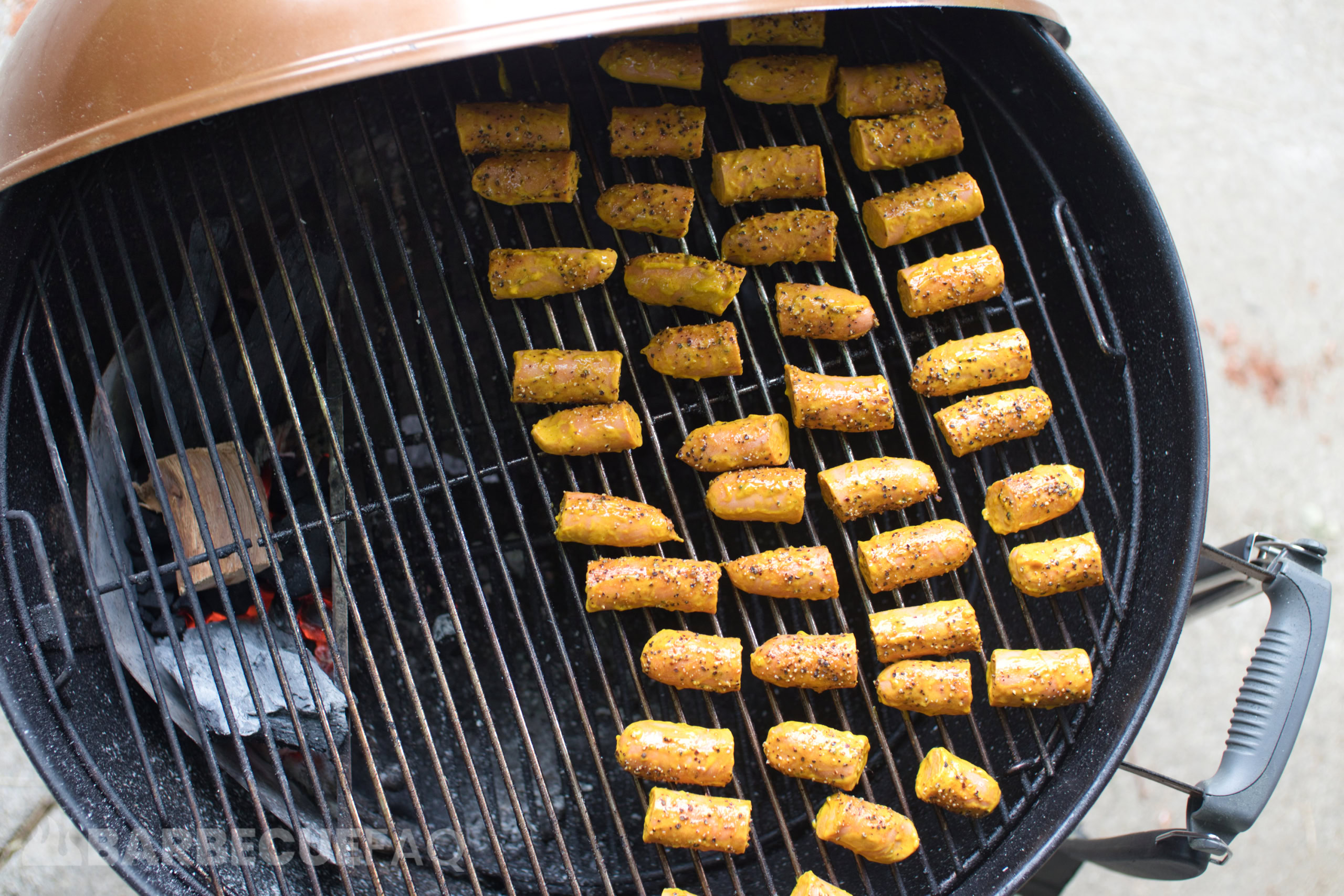 You want to smoke long enough for the mustard to burn off.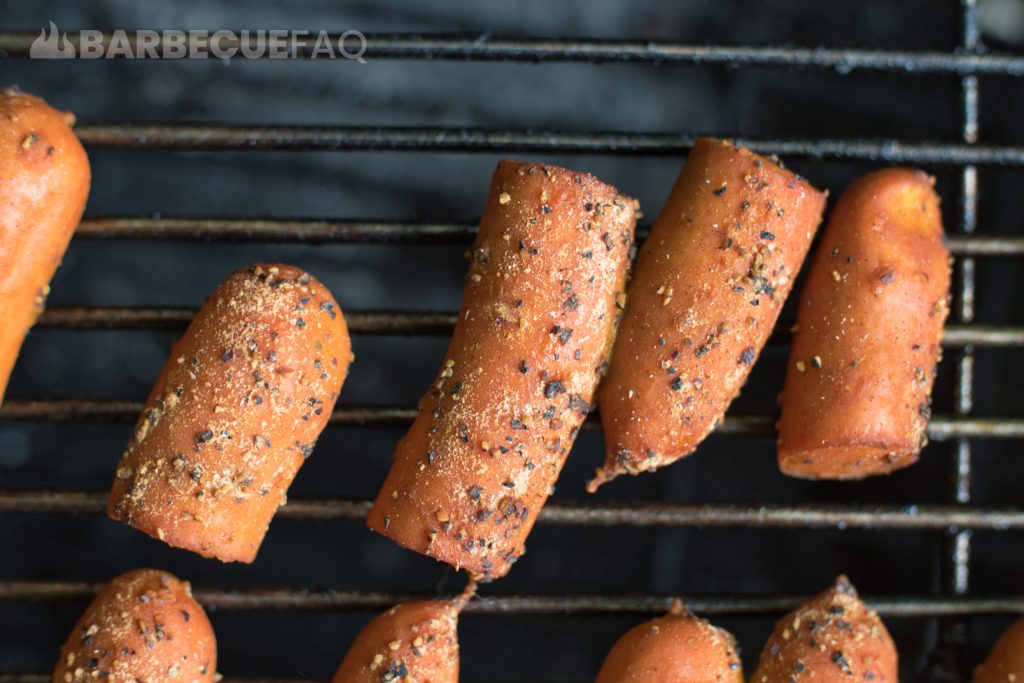 My buddy had post oak at his place so we used that to smoke with. Of the different hardwoods, post oak really is one of the best woods to use and pairs well with pretty much any meat.
After 1 hour of smoking, take off the smoker and return to your aluminum pan for glazing.
Glazing the Hot Dog Burnt Ends
Once you're done smoking the hot dogs you want to glaze them. Apart from making the hot dogs look shiny and appealing, the glazing process will caramelize them and create crispy edges.
In order to glaze, you can use your favorite barbecue sauce.
With recipes like this, I like to use up whatever I have on-hand. My buddy had Sweet Baby Ray's Maple as well as Stubb's Original.
We used roughly 1/3 cup of Sweet Baby Ray's and 1/3 cup of Stubb's. With this, we also used 4 pats or 2 tablespoons of butter. We also added a couple shakes of our rub on top.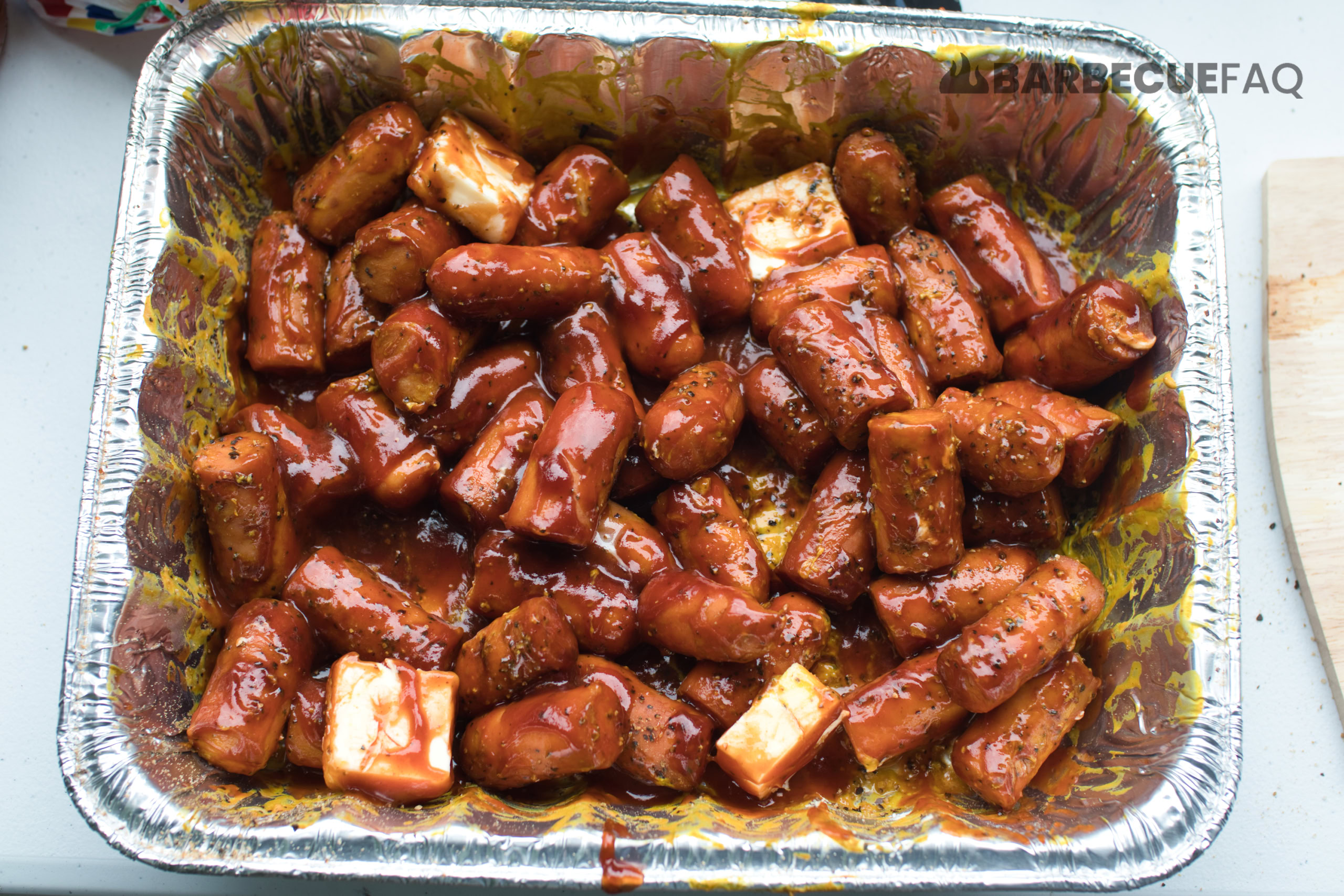 We then mixed up the burnt ends with the sauce and put these into his oven at 375F.
You could opt to increase the temperature of your smoker but at this point all you're after is heat in order to caramelize the sugars in the sauce and rub. Electricity is also much cheaper than charcoal.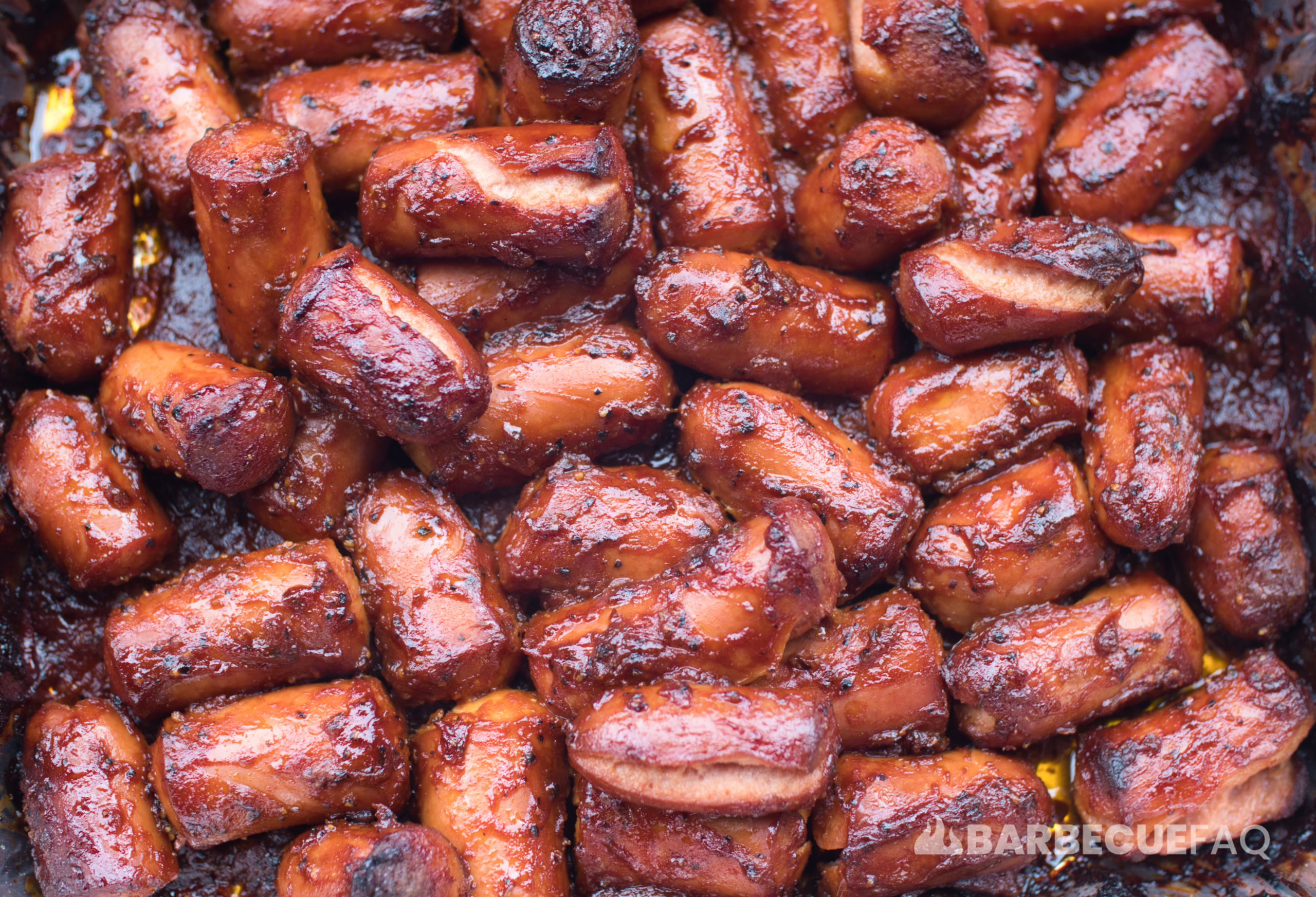 This process took 40 minutes in the oven until the hot dog burnt ends started to caramelize.
Every 10 minutes or so we'd stir the burnt ends around so that the butter was mixed in with the sauce.
The result: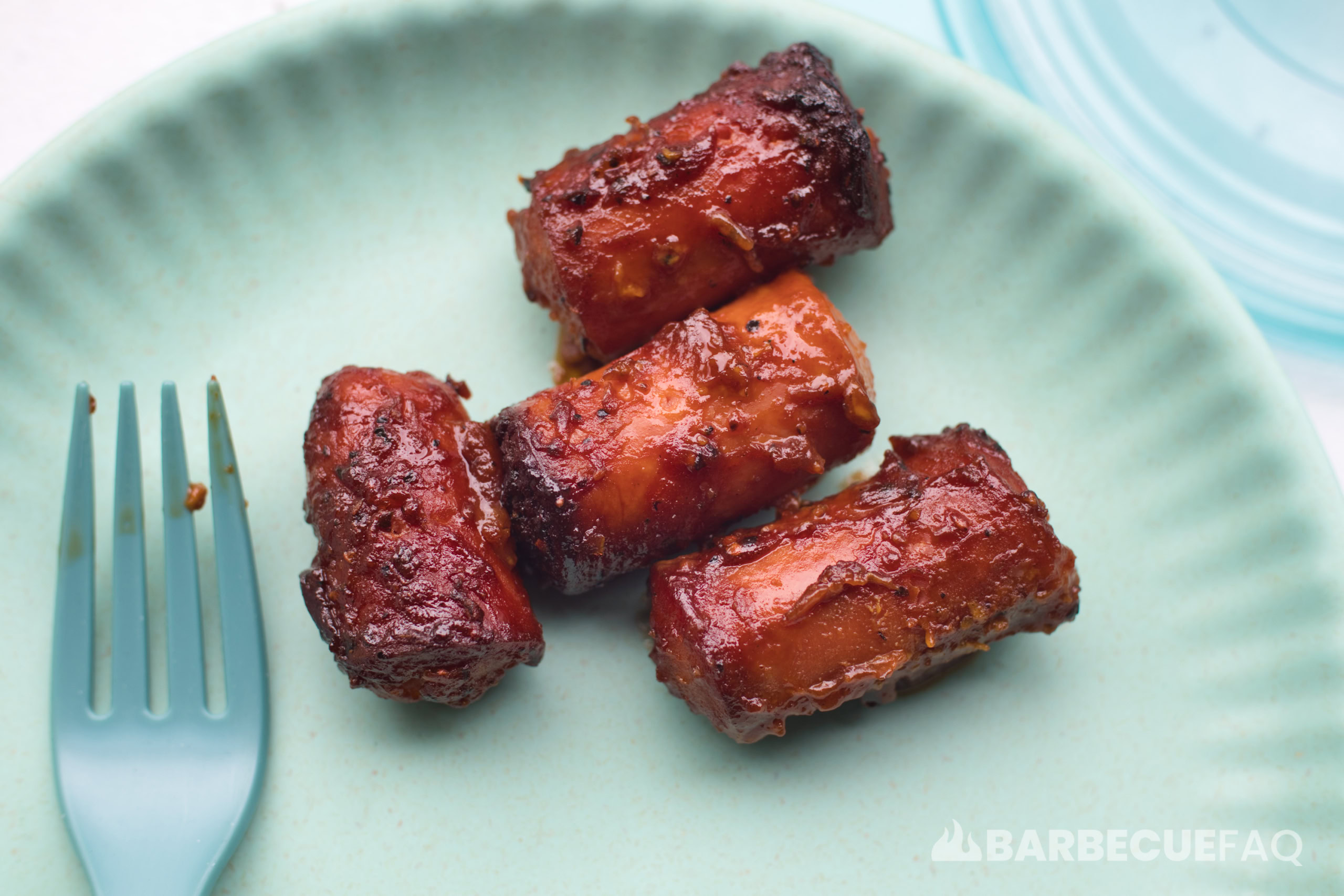 These smokey, barbecued cocktail weenies were excellent. They had a bit of heat, sweet, and varying textures when eating; A great snap from the Schonland hot dog, and crispy edges from the caramelization of the sugars.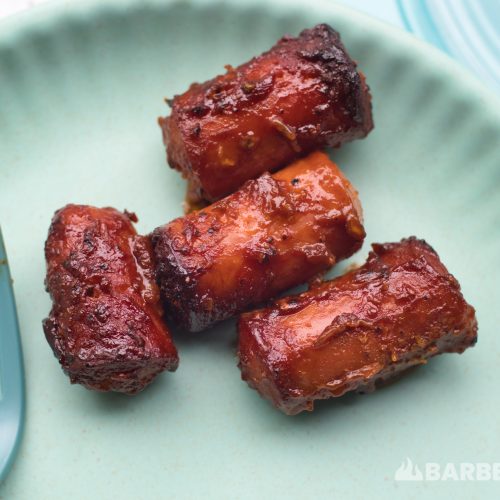 Smoker I used a Weber Kettle

Hardwood I used Post Oak Wood chunks

Charcoal I used FOGO Super Premium Lump Charcoal

Aluminum Pan

Knife
Hot Dogs

Deutschmacher, Schonlands, or Kayem Brand

Mustard

Only to be used as a binder
Glaze
1/3

Cup

Sweet Baby Ray's Maple Barbecue Sauce

1/3

Cup

Stubb's Original Barbecue Sauce

2

tbsp

Unsalted Butter
Slice hot dogs into thirds.

Put sliced hot dogs into an aluminum pan. Use mustard as a binder.

Apply rub liberally to mustard covered hot dogs. I used roughly 1/3 of the 5 oz bottle, which is about 3.5 tablespoons of rub. Ensure all surfaces are covered.

3.5 tbsp Vermont Maple Seasoning from Fox Meadow Farm
Smoke the Hot Dog Burnt Ends
Setup your smoker to run low and slow at 225F. We used post oak but use whatever hardwood you prefer.

Place hot dog burnt ends on the grill so that they aren't touching.
Glaze Hot Dog Burnt Ends
After 1 hour, put the smoked hot dogs back into the aluminum pan.

Add your favorite barbecue sauce and 2 tablespoons of unsalted butter.

1/3 Cup Sweet Baby Ray's Maple Barbecue Sauce,

1/3 Cup Stubb's Original Barbecue Sauce,

2 tbsp Unsalted Butter

Either increase your smokers temperature to 375F or bring inside to your oven. I prefer my oven because electricity is cheaper than charcoal.

Place into your oven and stir every 10 minutes or so just so the melted butter is incorporated into the sauce. You also want all surfaces of the hot dogs covered in sauce.

After some time the glaze will start to caramelize. This process took us around 40 minutes. However, be sure to keep an eye on them as it depends on how much sauce you add.

Once the glaze is set and the sugars have caramelized, bring outside and serve with toothpicks to eat and enjoy!
Don't fret if some of the casings crack, it's more or less bound to happen, especially in an oven. Also, if you don't have my rub, any sugar-based barbecue rub will entirely suffice here.