In the modern era that we live in, most of our foods are cooked with natural gas and or electric cookers. These methods of cooking are fast, effective, and convenient. That said, they lack the flavor profile that charcoal and wood fired barbecue can produce.
Given that every type of wood imparts a unique flavor, it is essential to have an understanding of wood in relation to smoking food. Smoking wood is generally classified into three categories: mild, medium, and heavy.
Types of Wood Used for Smoking Meat
Mild Woods
Mild woods include fruitwoods such as apple, grapevine cuttings as well as woods like alder. These varieties of smoking woods impart mild smokiness and hints of sweetness and fruitiness.
These woods are best used for smoking poultry and fish meat, where little smoke penetrates the meat.
Alder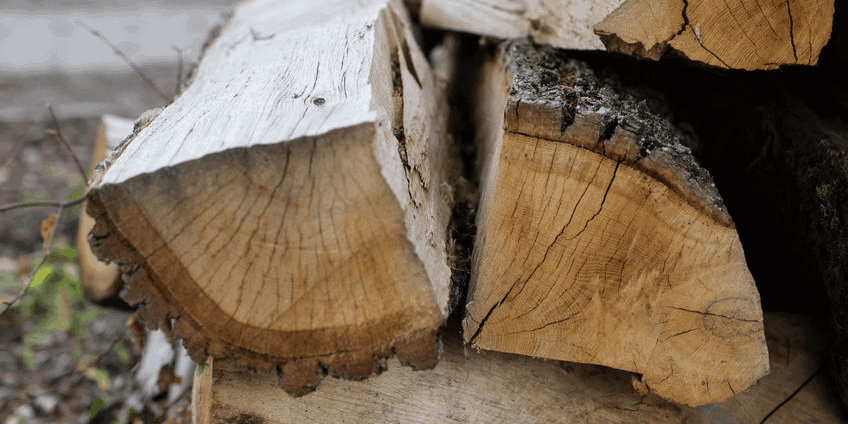 This wood produces a subtle, delicate smoke flavor with a slight hint of sweetness to the taste, which is in stark contrast to the overpowering smokiness and flavors of heavy woods.
Alder is best used to smoke fish (including salmon), pork, chicken, shrimp, vegetables, and fruits owing to the flavoring qualities of the wood. In fact, any dish that needs that slight smoky taste will benefit from using alder.
Applewood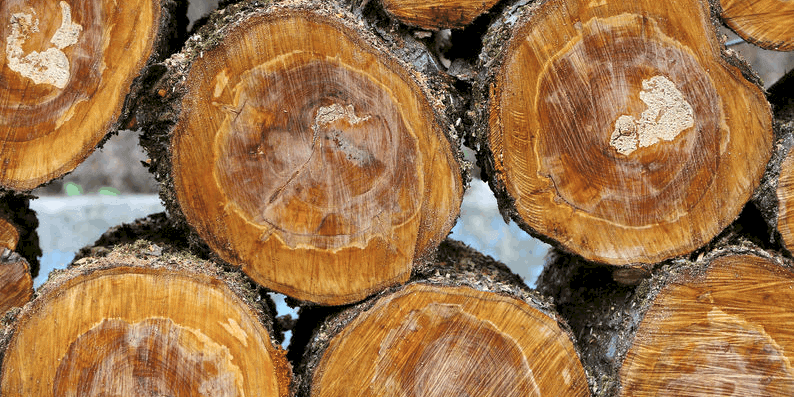 As is the case with other fruitwoods, applewood yields mild smokiness with fruity notes and a subtly sweet taste.
It is best used for smoking poultry and seafood. In some cases, you can use apple wood to smoke pork and lamb. Applewood does not do well with red meats, owing to its mild flavors. Nonetheless, you can mix applewood with medium and heavy woods such as oak and hickory to impart the fruitiness and sweetness in some red meats.
Grapevine Cuttings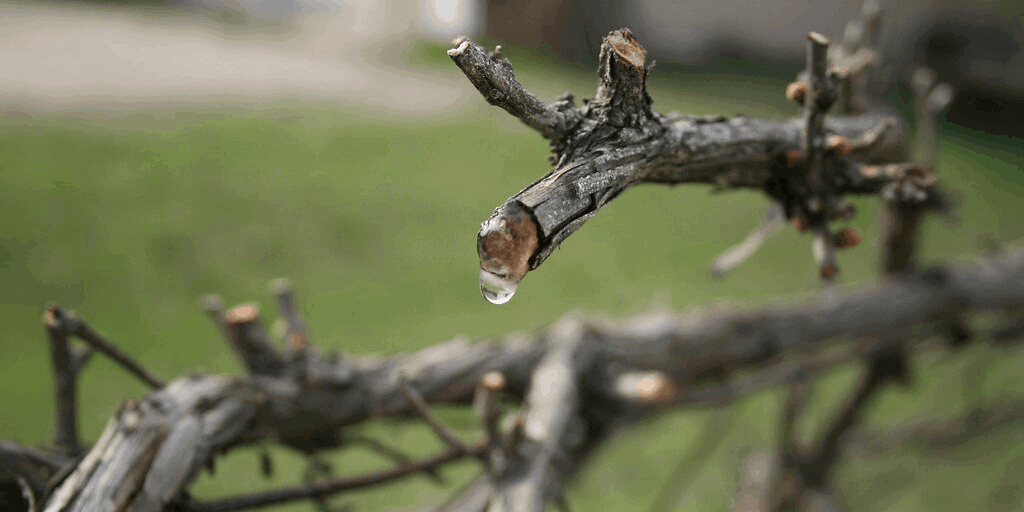 Grapevine cuttings are quite versatile as far as smoking goes. You can smoke your food using matured grapevine cuttings, imparting fruity and sweet flavors to your food. Alternatively, you can soak the cuttings in wine to add complexity to your food's flavors. Another aspect that illustrates grapevine wood's versatility is their suitability to smoke poultry, fish, pork, some game birds, and sausages.
While being versatile, it's important to note that grapevine cuttings can produce a lot of pungent smoke.
Medium Woods
Medium woods tend to impart a more intense level of smoke than mild woods. As such, these woods, which include oak and hickory, are best used for smoking meat that can withstand stronger smoke.
These woods are best used with beef, pork, and in some cases poultry meat.
Oak

Oak has accrued a reputation for being one of the best hardwoods to use in smoking. It imparts an excellent flavor that is strong while not overpowering the meat flavor nor the meat texture.
One can only describe its strength as medium, as it has a stronger flavor than many of the fruitwoods but is also lighter than woods such as hickory and mesquite. It pairs well with other woods, without losing its character.
Red meat, pork, fish, and game meat go well with oak.
Cherry Wood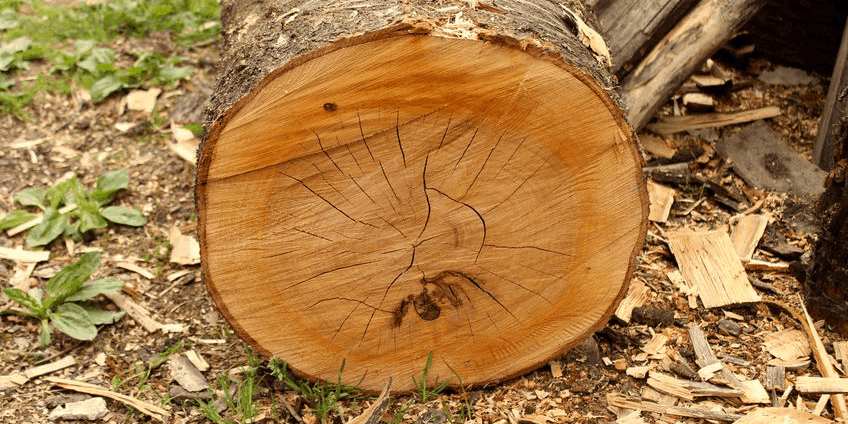 Renowned for its delicate, light, and sweet flavor, cherry wood is a to-go-to wood for many smoking enthusiasts because of its all-purpose properties. You can use cherry wood to smoke pork, beef, poultry, and much more.
Additionally, cherry wood mixes very well with other types of woods (especially, pecan, alder, oak, and hickory), imparting complexity to your food's flavor while producing its characteristic mild and fruity flavor.
The only thing to be mindful of is the dark-colored crust it produces. It might not be the most appealing of colors on light-skinned meat such as chicken and white-meat fish.
Heavy Woods
Heavy woods impart the strongest smoke and flavor. The variety of strong woods are best used for smoking dark red meat (for instance Texas Brisket) and game meat.
Hickory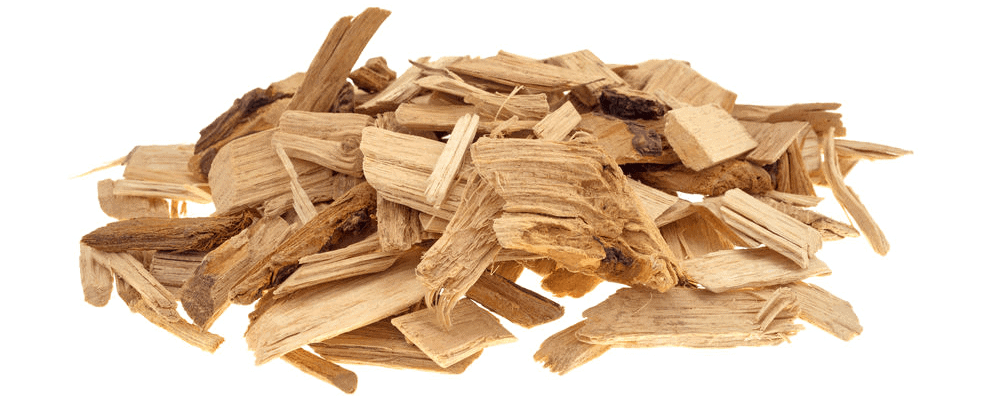 While the woods we use to smoke vary from one geographical region to another, hickory's popularity has traversed the entire smoking community. Despite historically being a staple smoking wood in the Midwest and the South, Hickory is a favorite among BBQ enthusiasts across America today.
Its popularity stems from being able to burn clean like oak while offering a strong smoky and sweet flavor. As such, it is very popular with bacon and pork. However, you can use it for turkeys, game meat, brisket, salmon, and even cheese.
All things considered, you should be wary of over smoking with hickory. You'll end up with a bitter taste that is too aggressive for many.
Pecan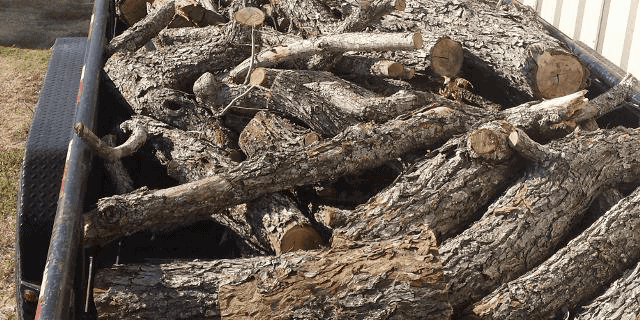 Pecan is closely related to the hickory. However, pecan is typically not as strong as hickory unless you over smoke. Over smoking meat with pecan wood leads to a bitter flavor as the smoke becomes pungent.
To get the most out of pecan, the wood should burn cool, allowing the smoke to impart a delicate flavor to your meat.
The wood is best used to smoke pork, poultry, beef, and cheese.
Mesquite

Any pitmaster will tell you that mesquite produces the heaviest smoky flavor of any smoking wood. Being an oily wood, it burns strong and fast with intense smoke. It can very easily add a bitter flavor and it's usually best left to experienced pitmasters. Most folks will only introduce mesquite for part of a cook either at the beginning or end.
You may even consider mixing mesquite with other medium and heavy woods like oak and hickory. Woods like cherry and apple are overpowered but will add a hint of sweet flavor.
It's best used with darker meats that can withstand the strong flavor; For instance wild game meats. Mesquite wood can also overpower some poultry, pork, and fish easily.
Sources