In essence, the Pit Barrel Cooker (PBC) is a bare bones Ugly Drum Smoker (UDS). If you're unfamiliar with this concept, it's essentially an oil drum barrel that's fabricated into a vertical smoker.
The PBC expands on the UDS concept and comes packaged with everything you need to get smoking right away (apart from a fuel source). You'd be hard pressed to find a better smoker at a similar price-point.
About Pit Barrel Cooker (PBC)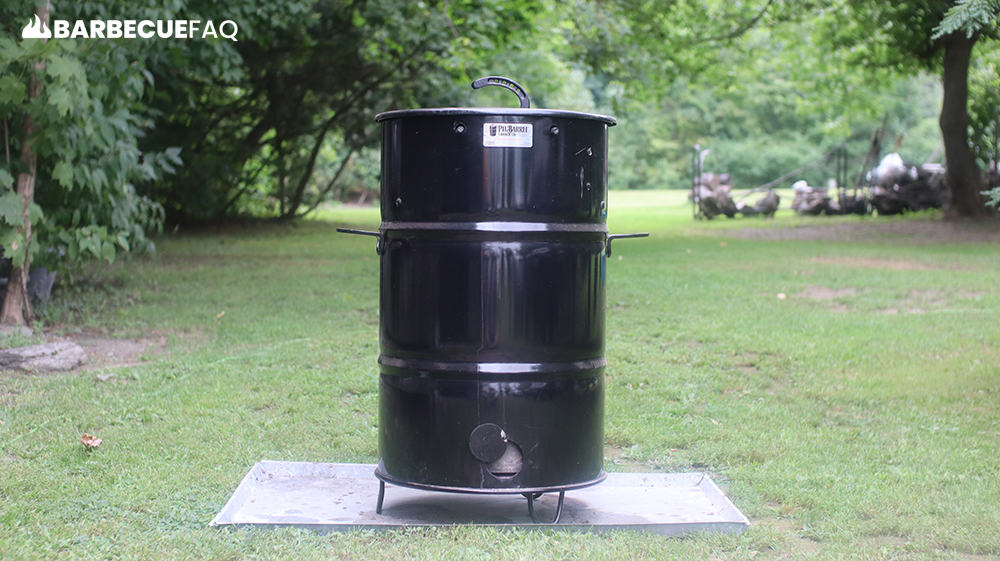 The Pit Barrel Cooker Company is a family-run business that's headquarted in Louisville, KY. It was founded by Navy Corpsman Noah Glanville and his wife Amber in late 2010.
The Pit Barrel Cooker is more than a smoker, it's more or less the Glanville's passion project. Twenty-nine prototypes resulted in a smoker that both Novices and Pitmasters alike have continued to rave about for over a decade.
The Pit Barrel Cooker is in a category all to it's own. It's kind of a cross between a barbecue and a smoker.

Noah Glanville
What Comes Packaged
At the time of writing this, there were four different packages available:
Just the PBC
PBC Select
PBC Choice
PBC Prime
Note: PBC has hinted at offering a 55 Gallon Drum in the not so distant future. Stay tuned.
The standard PBC package or the "Just the PBC" includes the following:
1 30 Gallon Steel Drum and Lid
8 Stainless Steel hooks
1 Wooden Hook Remover
2 Steel Hanging Rods
1 Charcoal Basket
1 Standard Grill Grate
1 Three-point Barrel Stand
1 All-Purpose Pit Rub 5 oz.
1 Beef & Game Pit rub
The subsequent packages include additional add-ons to the "Just the PBC" to make the experience more enjoyable. These add-ons are also sold separately, however, purchasing them packaged results in additional savings.
The PBC Select Package includes:
1 Pit Grips
1 18.5" PBC Custom Fit Cover
1 18.5" PBC Ash Pan
1 18.5" Hinged Grate
1 Custom Pit Barrel Chimney Starter
The PBC Choice Package includes everything from the standard PBC package as well as the PBC Select. It includes the following addons:
1 Stainless Steel Turkey Hanger
1 Sausage, Hot Dog & Brat Hanger
1 Corn Hanger
1 All-Purpose Basket Hanger
1 Stainless Steel Ultimate Hook Tool
1 Pit Barrel Bottle Opener
4 PBC 10" Stainless Steel Vertical Skewers
The PBC Prime Package includes everything from the Just the PBC package, PBC Select and Choice. It also comes with the following add-ons:
2 PBC 15" Stainless Steel Vertical Skewers
1 Custom Pit Barrel GrillGrate
4 Additional Original Stainless Steel Meat Hooks
1 PBC Stainless Steel Shaker Set
1 Ultimate Tong
1 Ultimate Spatula
Which Package Do You Recommend?
In terms of recommendations, you should internalize and think about what YOU like to cook/smoke and which add-ons you'll actually use.
What I mean by this is that there is no point in "choice" or "prime" if you don't plan to regularly smoke items associated with the provided add-ons.
Note: A number of the meats could also be simply hung with the standard stainless steel hooks as apposed to hangers engineered for these meats.
With that said, at a minimum, opt for the PBC Select. The main reason being the savings associated with both the PBC custom fit cover and the ash pan.
For instance, if you don't own a charcoal chimney, the one provided can suffice. The ash pan is a nice addition for easy clean-up. The custom fit cover helps with storage and ensuring the smoker lasts as long as possible. If you don't own oven mitts, the provided Pit Grips work as described. The hinged grate also works quite well when you want to hang one meat and use the grate for another cut.
Again though, If you already have a charcoal chimney, oven mitts, or any of the aforementioned add-ons, it may be best to simply buy the add-ons you need.
However, i'd still recommend getting both the ash pan and custom fit cover just for the sake of usability and storage as they're unique to the pit barrel. Then again, bought separately, they are $61.98. All the add-ons of the PBN Select cost $80 ($18.02 more), for a total savings of $46.95.
You get the idea though. Buy what YOU need. This review is based on the PBC select package.
What to Expect
The Pit Barrel Cooker is made in the United States and ships from Louisville, Kentucky. I live in the North East of the US and the PBC arrived in roughly 4 business days.
Everything comes neatly packaged inside the barrel. The only thing that needs to be assembled is the horseshoe handle atop the lid. PBC even provides the screwdriver and wrench to install it.
Something to keep in mind is that the box it comes in clearly states what's packaged. That's obviously problematic if you intend on it being a gift.
Technical Specifications
Overall Dimensions: 36" Tall (Including the Lid and Stand) and 25" Wide.
Internal Dimensions: 18.5" ID and 21" vertical clearance above the coals.
Capacity: 30 Gallons
Cooking Capacity: Varies*
Fuel: Charcoal
Shipping Weight: 51.1 lbs
Material: 18 Gauge Steel and Porcelain Enamel Coating
Lifespan: 3-5+ Years
*Cooking capacity depends on what's being cooked. For instance if you're smoking ribs, it's rated for up to 8 racks. You can also easily fit 2-3 pork butts, or 2 birds (13-16 lbs).
Pit Barrel Cooker: Ease of Use
The best part of the Pit Barrel Cooker is just how easy it is to use. From opening the cooker to getting it ready for your first smoke takes less than 20 minutes.
There's no "burn in" time or "seasoning" required and there's minimal assembly (handle for the lid).
Something a lot of people struggle to understand is the concept of lighting the Pit Barrel. That's somewhat understandable as it's not exactly expressed in a way that a beginner might understand.
Another learning curve is the damper adjustment based on elevation. This also relates to "temperature control" which I'll go over in more detail.
Lighting the Pit Barrel Cooker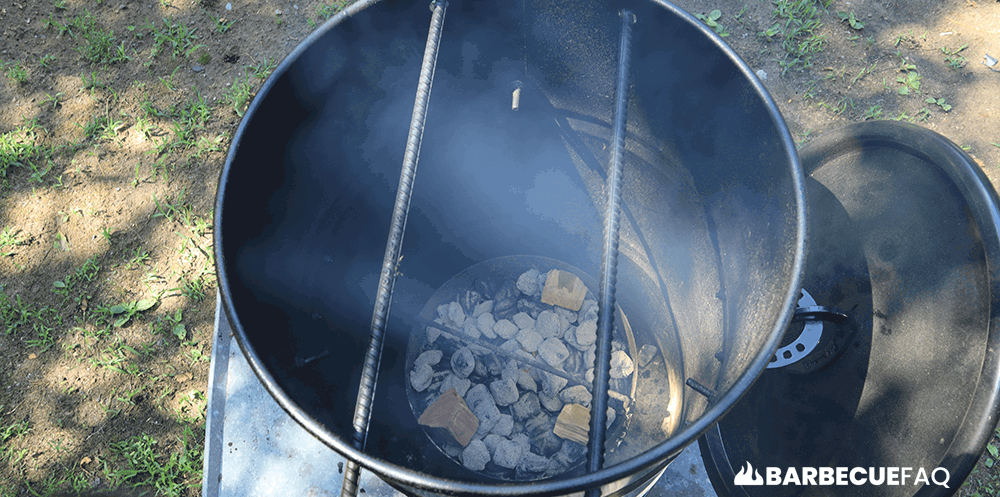 The Pit Barrel Cooker comes with a charcoal basket and a small charcoal chimney starter. You will need both of these components because they act as measuring devices to determine exactly how many coals you'll need.
Note: Briquettes are recommended. While lump charcoal can be used, it also burns hotter and faster than briquettes.
Start by filling the charcoal basket level.
Remove roughly 1/4 of the briquettes from the charcoal basket and put them in the chimney starter.
Remove the lid of the PBC and place the charcoal-laden chimney starter on the grill grate.
Light the coals with your preferred starter. You can use newspaper, tumbleweed fire starter, wax cubes, etc.

Depending on your elevation, the coals should be ready in 12-15 minutes.

Once the time has elapsed and the charcoal has started to ash-over, remove the charcoal chimney and grill grate. Then pour the charcoal back into the charcoal basket.
Pit Barrel Cooker notes that a full charcoal basket should last 6-7 hours. They also note that over time as you use the PBC, you'll start to learn adequate amounts of charcoal to use for various cooks.
Fun-fact: This method of lighting charcoal and pouring it onto unlit briquettes is referred to as "The Minion Method."
PBC Damper Adjustment
Pit Barrel Cooker has a single damper that you adjust based on the elevation of where you live. You can check your elevation: Here
For Example: I'm from New England and my elevation is 518 ft.
After which you check PBC's elevation guide and align your elevation with one of the damper options.

Based on my elevation, I would adjust my damper so that it is 1/4 open.
Something to note is that my damper had a tendency to "fall" out of position. While there is a space between the hole and the damper, it isn't open. I simply tightened the screw a quarter turn so that it would remain in the 1/4 open position.
Temperature Control
As we've learned thus far, the PBC is designed in such a way so as to eliminate room for failure. You're using a pre-determined amount of charcoal and you're told what to adjust your damper to.
As far as exact temperature, PBC States: "The average temperature range is between 275 and 310 degrees."
Also leaving the lid off for extended periods will spike the temperature. Early into the cooking process the temperature may also be a bit high but will mellow throughout the cook.
This is the reason Noah states that it's a cross between a barbecue and a smoker, hence the name Pit Barrel Cooker.
Temperature control is somewhat minimal, however this is by design. Something like cold smoking cheese may not be practical. Granted, you could use an A-MAZE-N Maze pellet smoker, close the damper, account for ambient temperature (if possible), remove the lid as temp spikes and then close once it settles.
How the Pit Barrel Cooker Works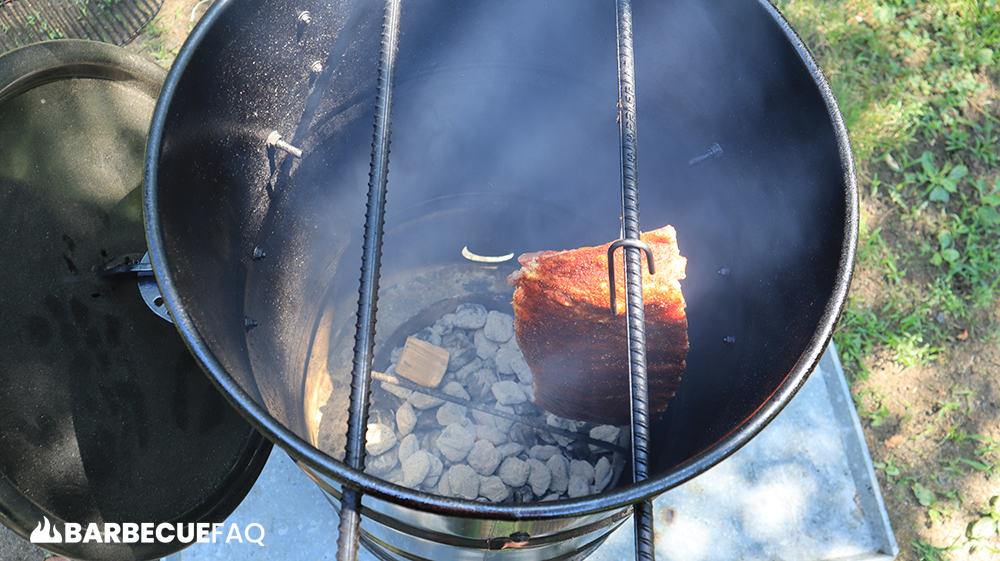 The Pit Barrel Cooker works based on convection heat transfer as apposed to direct heat in a traditional barbecue grill. However, Pit Barrel Cooker refers to their form of convection as "Beyond Convection."
This is because the meat is hung vertically meaning it reduces the radiative heat. PBC refers to this as the "Hook-and-Hang" method as it places the meat in the center of the convection, allowing all parts of the meat to be cooked at the same time.
Something I overlooked and didn't understand was why the meat closest to the heat source didn't burn. However, this is also part of the engineering of the PBC.
As the meat cooks, the meat drips juices onto the hot coals. In effect, this cools the portion of the meat closest to the heat source and creates a smoke fog that further enhances the meat.
Something to be aware of is that the PBC cooks faster than most are used to because of the engineering/science detailed above.
Cleaning the PBC
As noted above, one the biggest reasons I noted to opt for the PBC Select package is because it comes with both a custom fit cover as well as an ash-pan. These make maintenance tasks much easier.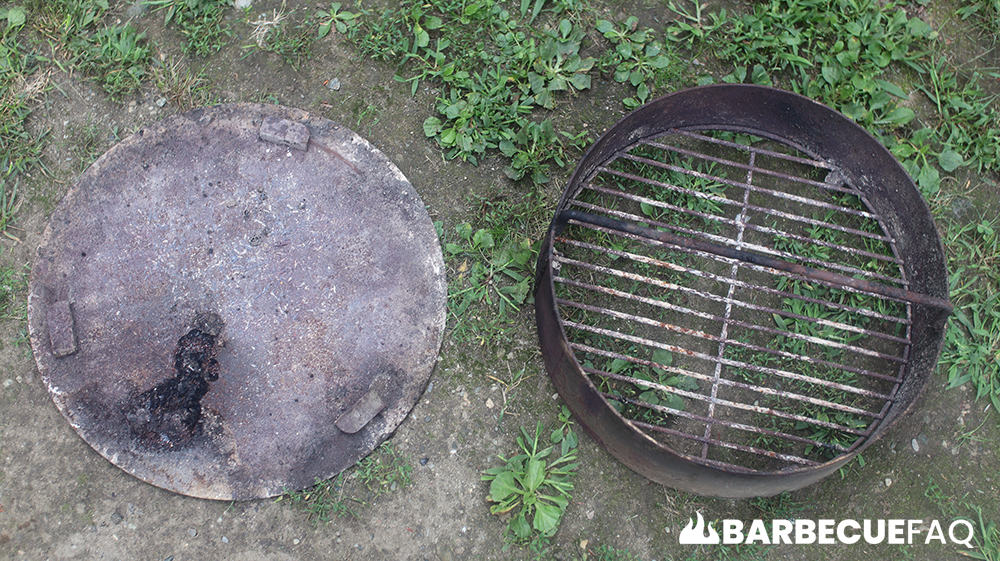 For instance, without the ash-pan, the charcoal basket will cause ash to build up on the bottom of the cooker. In this case, PBC recommends that you line the bottom with tin-foil and situate the charcoal basket atop the tin-foil. While this definitely makes clean-up easier, the ash-pan saves you money over time and makes ash clean-up extremely easy.
In terms of storage, the custom fit cover helps to prevent dust and debris from accumulating on the cooker. I've personally tested storing the cooker without the cover and it lead to issues. All my grills/smokers are stored in my barn; Particulates started to accumulate in a few days and heavy rain resulted in splash-back.
If you've used the grates for cooking, simply leave them inside the grill atop the charcoal basket allowing the food-stuffs to char. After which you can use a wire brush across the grates to clean them.
Lastly, some people note that they see a "flaking" inside the Pit Barrel after a number of cooks. This is completely normal and a result of smoke build-up from wood, as well as particles from meat fat. If you feel obligated to do so, you can use a putty knife or scouring pad to remove it.
Do not use water or soap inside the PBC to clean it.
Final Thoughts
As you can see, there is A LOT to like about the Pit Barrel Cooker. It's not hard to understand why Beginners and Pitmasters alike have continued to report positive experiences.
In terms of value, i'll reiterate: You'll be hard-pressed to find a better smoker at a similar price-point.
The PBC is ready out of the box. It may take a few cooks to understand the various nuances of the grill and coming to terms with how fast it cooks. However, I've yet to have an issue.