Grills are available in a variety of shapes and sizes to cover almost every possible grilling requirement. They mainly vary based on their fuel source. The most popular fuels are gas (liquid propane or natural), charcoal (briquettes or lump), wood (pellets, chips, logs), and electricity.
Each type has it's own set of advantages and disadvantages and it helps to determine your specific use requirements. Ask yourself: What will I be grilling? When will I be grilling? Where will I be grilling?
Keep these questions in mind and see if these options line up with your specific grilling needs.
Types of Grills
1. Charcoal/Wood Fired Grills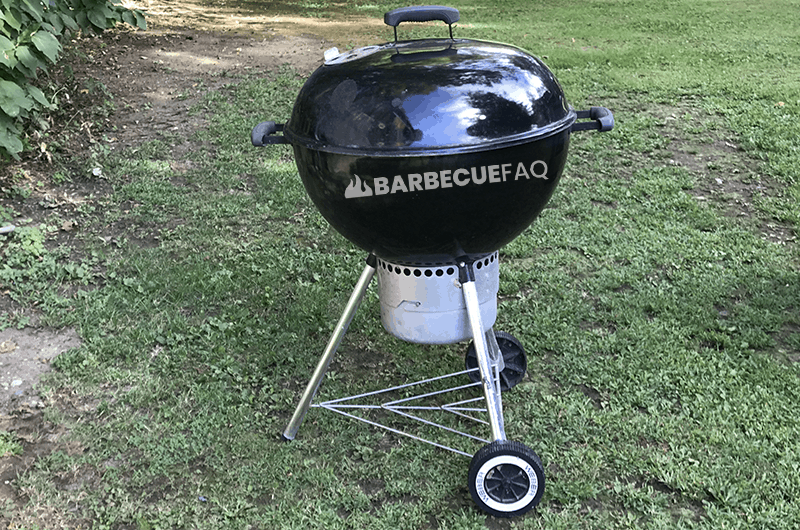 Charcoal/wood fired grills offer a more traditional grilling experience. These fuels allow you to impart meat with a delicious smoky flavor. Charcoal can also be complimented with wood chips allowing for unique flavors based on the type of wood you use.
A combination of lump charcoal and hardwood is popular. However, the lump charcoal may only be used as a fuel in order to get a hardwood fire started. Others may prefer to use charcoal with added wood chips solely for flavoring purposes. It's important to note that lump charcoal provides very little in the way of flavor. This is because the aromatics are burned off in the formation of charcoal.
Your decision of primary fuel source will be heavily affected by your particular region. It may be hard to get lump charcoal where you live, but hardwood might be in abundance or vice versa. Use what is available to you or have it shipped to you.
Lump charcoal is also capable of burning at a more uniform heat than wood. This comes from the uniformity of the charcoal and less variance in the fuel. With that said, with time you'll learn to control your fire and how to create uniformity under the grates.
In addition to being a great grill, they can easily be altered for smoking purposes. You can also change your fire configurations for direct and indirect heating options easily.
If you want to use a charcoal grill, then you need to bear with the high cost of lump charcoal or briquettes. You also need to deal with availability of certain species of wood, as well as time consuming fire maintenance.
Charcoal and wood fired grills tend to be messier than other options. While grilling grates will get dirty no matter what you do, charcoal dust and wood ash are plentiful and need to be cleaned regularly.
Charcoal grills are relatively cheap and can truly last forever. My Weber Kettle pictured above is over a decade old.
2. Propane or Natural Gas Grills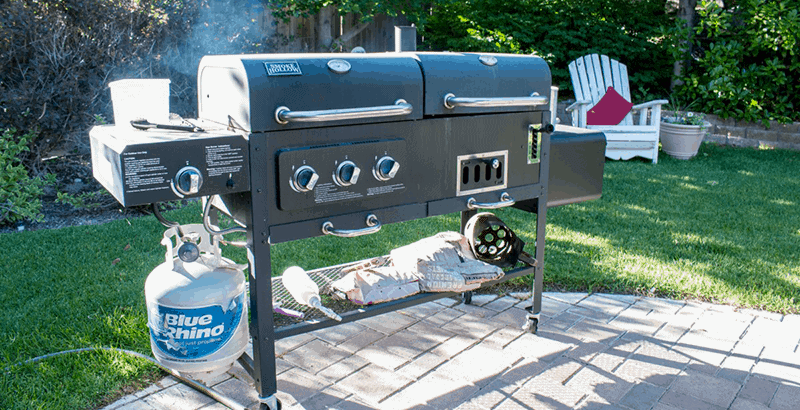 Gas grills are the most popular type of grill sold. They are capable of being started and ready to use in a matter of minutes. It's usually as simple as turning a dial to the desired level of heat and waiting.
Propane or Liquid propane (LP) gas grills are hooked up to a propane gas tank while their natural gas counterparts are designed to be hooked up to your utility gas line. This makes the operation of these grills quite affordable when compared to charcoal, wood, and pellet options.
Since these grills use gas as a fuel source, you don't have to deal with the messy nature of charcoal grills, and their demanding cleaning requirements. For average homeowners, low fuel costs and little maintenance requirements are attractive and it's easy to see why these grills are abundant.
With that said, mass production and shorter manufacturer warranties are indicative of equipment that doesn't last long. Weber offers a 10 year warranty where-as Smoke Hollow offers a 1 year warranty. This can obviously vary based on brand and their own standards for parts but typically Charcoal grills have longer warranties because they have little to no moving parts. A gas grill has several. This is standard across all types of products, not just grills though.
Natural gas is sort of a different story as the upfront cost of the grill can sometimes be 4 or 5 times more than a mass produced LP gas grill. Brands like Napoleon and Lion come to mind and both feature longer warranty periods (10 years and even lifetime on certain parts).
Another glaring drawback is that they don't produce the same rich smoky flavor associated with charcoal grills. The upfront cost is also more in comparison.
If you're the average homeowner and you're looking for a surefire way to cook up some hamburgers and hot dogs, then a gas powered grill is the perfect choice. They have lower fuel costs and usually require less maintenance.
3. Ceramic Grills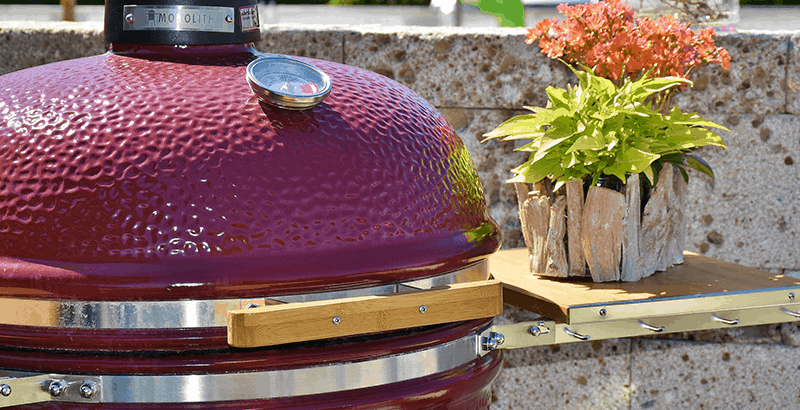 Modern ceramic grill designs are based on ancient clay cooking vessels. The earliest Kamado grills were made in China and are dated to be over 3,000 years old.
While modern interpretations of this type of grill have been on the market for a shorter period of time, they have gained considerable popularity due to their unique design advantages over traditional options.
One of the main advantages of these grills comes from the fact that they are great at retaining heat, making them more versatile. They can be used for grilling, smoking, and even baking.
They can cook as low as 225°F  and reach temperatures as high as 750°F without a problem. This is due to high quality ceramics combined with a ventilated system that allows you to control the flow of air.
It is however worth mentioning that ceramic grills are more expensive than the other types described due to their costly manufacturing processes as well as their low production volumes. Kamado Joe, Big Green Egg, and Primo are popular brands in this space.
4. Electric Grills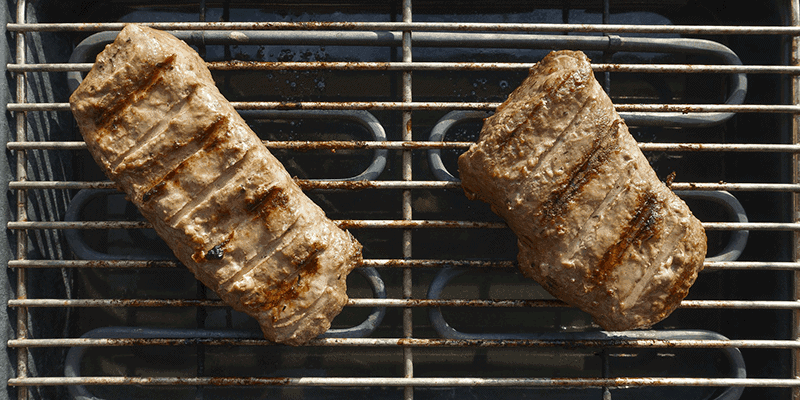 If you live in an area where the use of gas and charcoal grills is restricted by safety regulations, electric grills may be your only option. The use of these grills eliminates the need for charcoal, wood and gas, and the resulting open flames.
To get started you simply plug it into an outlet and turn it on. You can find electric grills designed for both indoor and outdoor use.
These grills can still offer grill marks that will fool most people. Due to technological advancements you can now even sear meats on infrared electric grills. These grills heat up faster, and reach higher temperatures than their conduction heating counterparts.
However, the absence of real flame denies the meat the unique smoky taste and flavor associated with charcoal. Since these grills need to be hooked up to an outlet, their use is quite limited.
5. Portable Grills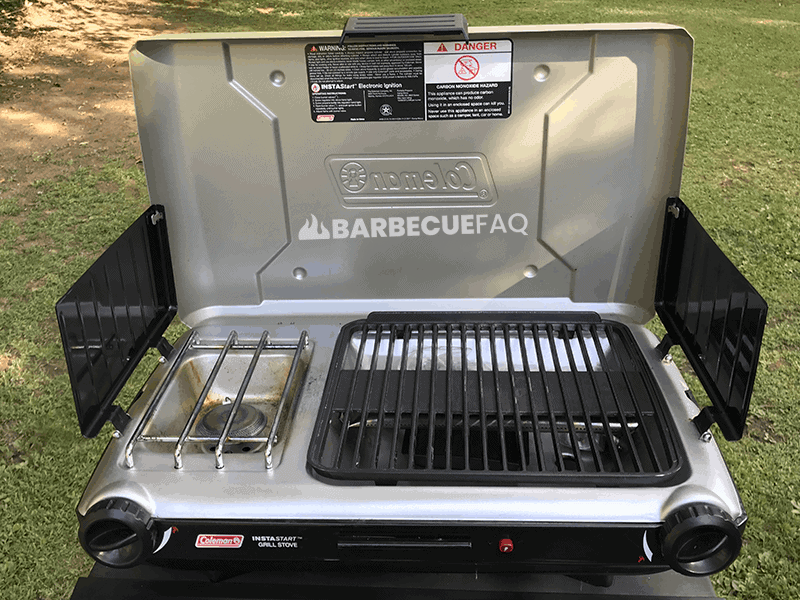 If you are looking for a grill that you can carry with you during your outdoor adventures like picnicking and camping, portable grills are a great fit. These can either be of the propane gas or charcoal varieties. As their name suggests, portable grills are easy to carry from one point to the next due to their smaller size.
While their compact size is considered to be their main advantage, it also leads to their main disadvantage. Portable grills aren't very practical for large groups of people. If you're cooking for a lot of people, be prepared to spend an extended period of time at the grill.
6. Pellet Grills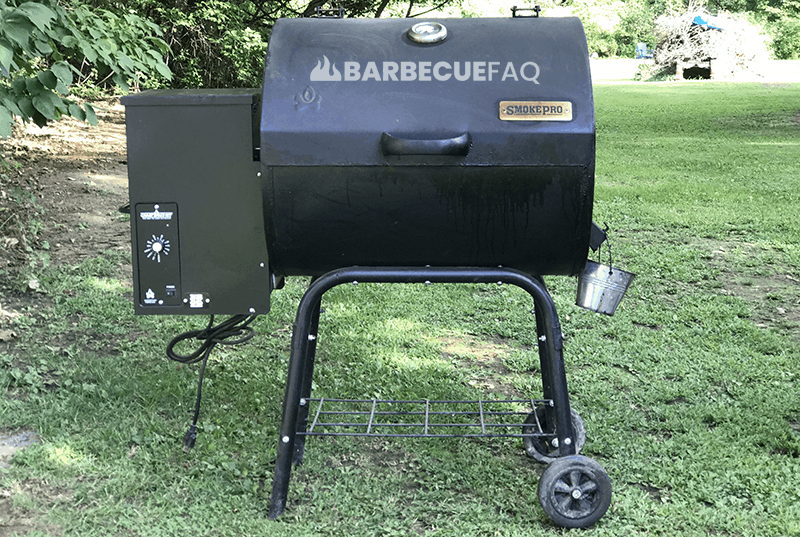 Pellet grills are a relative newcomer in the grilling industry. They cite their beginnings to the oil crisis of 1970s where-in pellet stoves became an alternative for heat. By 1985, Joe Traeger developed the first pellet grill and by 1986 he patented it. It wasn't until 2006 when the patent expired that competitors like Camp Chef, Pit Boss, and Rec Tec were able to enter the market.
A pellet grill runs off of electricity and is fueled by pellets. Similar to wood powered grills, the food-grade hardwood pellets can be of different species that can affect the flavor. This method of cooking is also similar to indirect or convection cooking that charcoal and wood powered grills use.
Folks that have a tough time controlling a charcoal or wood fire will find solace in pellet grills for a number of reasons:
They feature dial temperature controllers that maintain heat easily.
They create the smoky flavor everyone's after.
The auger automatically pushes in new pellets from the reservoir as needed.
Maintenance is as easy as using a vacuum to remove pellet dust from the heating element.
These grills are also quite cost effective and usually are priced the same as gas powered options.
The only downside is the cost of pellets. I'd suggest buying in bulk and sticking to popular hardwood varieties like hickory. If you're planning to cook hamburgers and hot dogs, a 10 lb bag will last you a fair bit of time. Only during longer, frequent smokes (6-12 hours) will you find yourself needing to to buy troves of pellets.
Final Thoughts
Barbecuing gives you the opportunity to have fun with your friends and family. Before choosing a specific grill, be sure to take some time to identify your specific use requirements.
Once you have a clear idea of what you need from your grill, you will be ready pick from one of the listed options. Remember, the most popular option may not always be the best option for you.